Arran Brewery in £4m crowdfunding move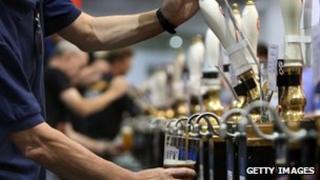 Arran Brewery has become the latest Scottish brewer to turn to crowdfunding as it seeks to expand its operations.
Arran is to launch an offer later this month in a bid to raise £4m.
Crowdfunding is a way of raising equity by asking a large number of people for a small amount of money each, usually via the internet.
Aberdeenshire-based BrewDog has already raised almost £7m through investors buying shares in its "Equity for Punks" crowdfunding scheme.
Arran Brewery recently announced plans to open a brewery, hotel and visitor centre in the village of St Fillans, Perthshire.
The move is part of wider plans to open new breweries, a distillery and its own chain of public houses.
The beer maker said investors would be offered product and service discounts.
'Shareholder perks'
Managing director Gerald Michaluk said the non-traditional method of raising equity carried "high risk" for the investor but also offered the potential to "do rather well".
He added: "However, as most investments of this type carry shareholder perks it is quite possible that they, if taken up, more than compensate the investors for any value loss in the paper value of their shares.
"Thus, crowd or cloud investing is not an investment for the faint-hearted nor for someone who is not passionate about the company's product they are investing in."
Earlier this month, BrewDog announced it was extending the limit of its Equity for Punks scheme, following "an epic response" from investors.
The brewery, which originally aimed to raise £4m in six months, is now looking to raise a further £250,000 from selling more shares to "fanvestors".
The third round of the scheme is due to be completed in January.
The brewer said the extra funds raised would further boost the expansion of its bar division, as well as fund a new series of "bottle shops" across the UK designed to cater for a growing demand for craft beer.