Sausage skin maker Devro to invest £40m in new plant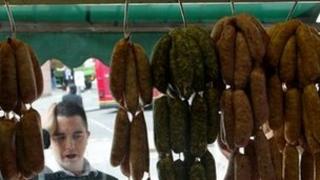 Sausage skin maker Devro is to invest £40m in a new manufacturing plant in the US to cut costs.
The company, which is based in Moodiesburn, says it expects the new factory in South Carolina to reduce costs by £8m a year from 2016.
Earlier this year, the company blamed a drop in profits partly on "manufacturing issues" in the US.
In a statement, Devro said it expected trading for the whole of 2013 to come in at the lower end of expectations.
The company said that although sales had been strong over the past few months in emerging markets such as Latin America and China, developed markets such as the UK and Australia had traded more slowly than expected.
Shares in the company fell by about 4% in early trading.