Glasgow 2014: Airport's £17m makeover enters new phase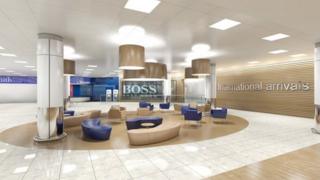 Glasgow Airport has begun the second phase of a £17m makeover ahead of next year's Commonwealth Games.
The refurbishment project will include expanding and improving the international arrivals area and modernising the main check-in hall.
About £1.5m will also be spent on upgrading the toilet facilities.
The airport said the makeover was one of the most significant and comprehensive upgrades to the main terminal since it opened in 1966.
It is the biggest single investment since the launch of the airport's £31m Skyhub building in 2008.
The refurbishment work will include new flooring in the airport's domestic pier, the installation of new heating and ventilation systems in terminal two, and general improvements to the airport's road network.
Glasgow Airport managing director Amanda McMillan said: "Next year represents a fantastic opportunity to showcase the best of Glasgow and Scotland to the world and we are fully aware of the important role we have to play in helping deliver a successful Commonwealth Games, Ryder Cup and Year of Homecoming Scotland."