BMI Regional to increase flights from Aberdeen to Oslo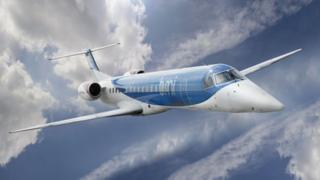 BMI Regional has announced plans to increase the frequency of its Aberdeen to Oslo service, only weeks after launching the direct route.
The airline confirmed it will move to two flights a day, from Mondays to Thursdays, from 3 February.
BMI launched a single daily flight - from Sundays to Fridays - on 28 October.
The company said the move was in response to demand from the oil and gas industry.
Under the new schedule, on Sundays and Fridays the service will continue to operate with a single daily flight.
BMI said the increase in frequency would enable business users to travel to either city for a day.
It also expects to see a boost in inbound leisure traffic to the north east of Scotland.
'Delivering on promise'
BMI Regional chief executive Cathal O'Connell said: "When we launched our Aberdeen to Oslo service last month we committed to increasing the frequency if demand required it and we are now delivering on that promise.
"The support of businesses at both ends of the route has exceeded our expectations and we are now responding to feedback from our customers in adding these additional frequencies."
He added: "Aberdeen is now firmly established as an important hub in our network and we will be developing our Norwegian operations further in January when our services from Stavanger to the far north of the country start flying, again driven by demand from the oil and gas industry."
At the end of last month, BMI Regional announced it would axe five routes and pull out of three UK bases, a year after it launched as a fully independent airline.
BMI said it was closing its bases in Edinburgh, Birmingham and Manchester, following a "comprehensive review" of operations.
The five routes will be scrapped by January.
The decision to pull out of the bases will leave Aberdeen and Bristol as BMI's main hubs.