Glasgow 2014: RMT calls for talks on Commonwealth Games bonuses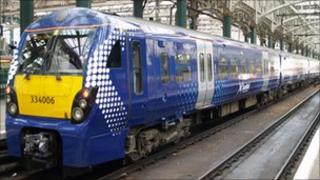 A transport union has called for urgent talks with train companies and Network Rail over staff bonuses for the Glasgow 2014 Commonwealth Games.
The RMT wants "recognition and reward" payments to cover extra workloads before and during the event.
Last year unions struck deals with transport firms for extra work involved in the London Olympics and Paralympics.
RMT said it wanted to negotiate "similar arrangements" for the Commonwealth Games.
Train operator ScotRail said it was still assessing the costs involved in delivering an expanded timetable for the event.
RMT general secretary Bob Crow said: "With the countdown now well and truly on for the 2014 Commonwealth Games, it is important that we reach early agreements for all those transport staff, across all grades, who will carry the additional workload that will be generated both in the run-up to and during the events.
"There will once again be a huge transport challenge and RMT is seeking fair and adequate financial compensation across the board, on a flat-rate basis, for all of those staff involved in delivering the increased transport demands."
'Significant cost'
ScotRail said it could potentially face a "significant cost" in delivering an expanded timetable during Glasgow 2014 - and these costs were still being fully assessed.
A spokesman added: "Together with our partners, we are making good progress in our preparations for Glasgow 2014.
"ScotRail is focused upon providing a smooth travel experience within Glasgow as well as further afield - and we look forward to helping thousands of sports fans from Scotland and across the world enjoy this exciting event.
"As planned, we will discuss these proposals with the RMT this month as part of our regular programme of meetings with them and other trade union partners."
A Network Rail spokesman said: "We will be meeting with our trade unions to discuss our plans for during the games, but we expect that we can manage the event within our normal operations and working arrangements."
Rail plan
Transport Scotland said it was working with ScotRail and Glasgow 2014 organisers to "understand any potential funding shortfall" that may arise from providing additional services or extra carriages during the Games period.
A spokesman added: "With less than a year to go, it is only right we take steps now to offer a worthy welcome to our visitors, including an attractive transport network with sufficient capacity.
"ScotRail is currently working up the rail plan that will inform the Commonwealth Games, the details of which will be finalised in early 2014.
"The rail plan will ensure that the capacity accommodates the potential forecast spectator demand as much as possible whilst minimising impact on regular customers."