Scottish employment continues to rise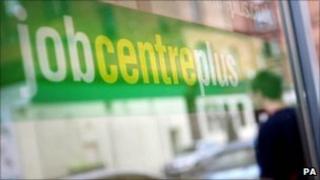 The number of Scots in work has climbed again while unemployment has also risen slightly, according to the latest official figures.
Employment in Scotland increased by 16,000 over the three months to September, following a sharp rise in the previous set of figures.
Unemployment also increased by 1,000, to stand at 199,000.
The Scottish jobless rate is now 7.2%, which is below the average of 7.6% for the whole of the UK.
The UK jobless total fell by 48,000 to 2.47 million between July and September.
Office for National Statistics (ONS) data showed the number of people in work in Scotland now stands at 2,547,000.
The number of people claiming Job Seeker's Allowance (JSA) fell by 2,800 from September to 118,900 in October - 21,400 down on the figure for October 2012.
'Encouraging news'
Scottish Secretary Alistair Carmichael said: "Today's figures show encouraging news for Scotland.
"The number of Scots claiming Jobseeker's Allowance has fallen by 21,400 over the past year and is now at its lowest level in over four-and-a-half years. That should be welcomed.
"Employment in Scotland has also increased by 75,000 over the last 12 months and has risen by a total of 111,000 under this government.
"The small increase in unemployment over the last three months, and the recent events at Grangemouth and at the shipyards on the Clyde, are stark reminders there can be no let-up in our efforts to stabilise the economy and secure jobs for the future."
The Scottish government said Scotland was outperforming the rest of the UK as a whole, with a higher employment rate and lower unemployment rate than England, Wales or Northern Ireland.
'Consistent growth'
Finance Secretary John Swinney said: "This is the 10th monthly release in a row to show continued improvement in employment rates as we support more people into work.
"This consistent growth in employment shows that the policies of the Scottish government to create jobs and boost the economy are making progress.
"Unemployment rates have fallen over the past year and the number of people claiming Job Seeker's Allowance has fallen to its lowest level since February 2009.
"Youth unemployment remains a challenge, however our youth employment rate is ahead of the UK as a whole, with the number of young people in employment continuing to rise."
Scottish Labour's finance spokesman, Iain Gray, said more people in work was always welcome but the latest figures were "still well below the levels before the recession".
He commented: "With more people now out of work overall it shows that the much vaunted signs of economic recovery are producing minimal improvements and the market is stagnating.
"Again we have more women without work and John Swinney needs to look behind the headlines and identify ways to stop the figures increasing even further."
'Encouraging' figures
The Federation of Small Businesses welcomed the latest figures.
Scottish policy convener Andy Willox said: "That there are another 16,000 Scots in work is certainly encouraging.
"With business confidence continuing to rise and more firms looking to invest, this is another sign that a sustained recovery could be under way.
"But it is by no means guaranteed. We must stay focused on creating the conditions which allow small businesses to do what they do best: spot opportunities, serve their communities, contribute revenues and create jobs."