Johnston Press cuts costs by £30m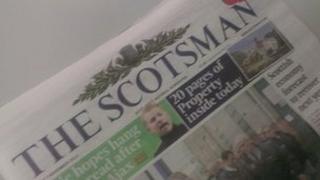 The newspaper group, Johnston Press, has reported costs savings of £30m over the past year.
Reporting results for the 18 weeks to 2 November, the company said operating profit for the period increased by 7.8%.
Revenues, however, fell by 6.8% and advertising revenue was also down by 6.5%.
That was a slower rate of decline than in the first half of the year.
The company said it continued to invest in digital with revenues up 32% over the year and by nearly 50% in October alone.
Johnston, which owns The Scotsman and Yorkshire Post newspapers, along with nearly 300 other titles, began a major restructuring last year.
A re-launch of 196 websites was completed in September and the group said it was confident its investment would start to "deliver results".
In the Midlands, Johnston said a "tipping point" had been achieved where "digital revenues outstripped the decline in local print revenues".
Johnston Press chief executive Ashley Highfield said: "It remains a key goal for the whole group to reach the point where digital growth will offset any further decline so we can return to overall top-line growth.
"With the refreshed print titles and websites averaging monthly audiences of over 25 million, and new digital products and services, we believe that Johnston Press remains as relevant to local communities and advertisers, both local and national as it has ever been."
He added: "We also continue to focus on reducing our cost base whilst increasing our investment in our digital future."
Earlier this month the BBC reported that The Scotsman and Scotland on Sunday newspapers were to be slimmed down, with more journalist jobs being cut.