JD Sports Fashion buys controlling interest in Tiso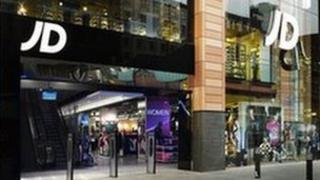 JD Sports Fashion has taken a controlling interest in Edinburgh-based outdoor clothing and equipment company Tiso Group for an undisclosed sum.
Tiso said the "strategic investment" by JD would allow it to grow and develop existing businesses Alpine Bikes, George Fisher and Blues the ski shop.
They are to become part of the JD's Outdoor division, which already includes Blacks and Millets.
Tiso said it was pleased to have formed a relationship "with a strong partner".
The move will see JD executive chairman Peter Cowgill take over as chairman at Tiso.
Chris Tiso will continue as chief executive of the group.
The company, which has 10 outlets around Scotland, will remain based in Edinburgh.
The first Tiso shop was launched in Edinburgh in 1962 by Graham Tiso, an experienced mountaineer.
The Tiso family is retaining a shareholding in the company.
David McCorquodale, from KPMG, who was lead adviser on the sale, said: "The outdoor retail market is consolidating and scale with national coverage is an important aspect of meeting consumer needs."
He added: "To bring the Tiso brand into an ambitious larger group that can offer the full range of choice is a logical step for the Tiso family to take.
"For JD Sports, there is plenty of opportunity for further development of a business which has market leaders in Tiso, George Fisher, Alpine Bikes and Blues skiing."