Infratil writes off Prestwick and Manston airports assets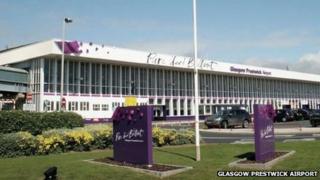 New Zealand firm Infratil has written off the assets of its UK airports, Glasgow Prestwick and Manston in Kent.
The company said it had reduced the value of both assets from £14.5m a year ago to zero.
The announcement comes as the Scottish government continues talks with Infratil over buying the unprofitable Prestwick operations.
Manston Airport is being bought for £1 by Ann Gloag, who co-founded the Stagecoach Group.
Prestwick is also expected to be sold for £1, according to the company.
In its interim results for the six months to the end of September, Infratil said: "Following a drawn-out process, Infratil has agreed to sell Kent Airport and is working towards the sale of Prestwick Airport to the Scottish government.
"It is hoped both transactions are concluded later this year."
'Responsible owner'
The company said that while the financial outcomes for both airports had been "very poor", the company had shown that it was a responsible owner "even during very lean times".
It added: "The airports were kept operational and will be sold in better condition than they were purchased."
Prestwick was put up for sale last year after heavy annual losses.
Several investors expressed interest but no offers were made.
The Scottish government announced last month it was negotiating to buy the airport.
Ministers have said they hope to conclude detailed negotiations with the company by 20 November.
A Transport Scotland spokesman said: "Once the Scottish government has completed its due diligence and is content to proceed, it will negotiate a purchase price with Infratil that will aim to maximise the return for taxpayers' investment."