Scottish housing demand 'higher than supply'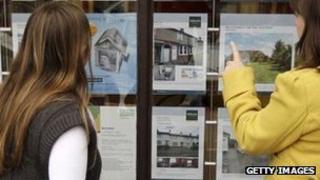 House prices have risen again as interest from buyers outstripped the number of properties coming onto the market, according to a report.
The imbalance between supply and demand caused prices to increase during October, the Royal Institute of Chartered Surveyors (Rics) said.
Its latest survey for Scotland records a balance of 52% more chartered surveyors reporting price increases.
This is the highest proportion since 2007.
However, a separate report from the Office for National Statistics showed house prices fell by 1.1% in Scotland over the year to September.
This compared with a price increase of 4.2% in England and 1.4% in Wales, and a fall of 1.5% in Northern Ireland.
Excluding London and the South East, UK house prices increased by 1.4%.
Sarah Speirs, director of Rics Scotland, said: "The housing market is gathering momentum and buyer numbers are on the rise across Scotland.
"That said, the number of homes currently up for sale is still nowhere near enough to keep up with demand and, in order for the market to function correctly, this imbalance urgently needs to be addressed.
"If we are to create a more sustainable market, it is critical that many more good-quality homes are built in areas where people want to live."
Rental demand
Those responding to the survey report "encouraging levels of activity" and a "noticeable shortage of new stock" in some parts of the country.
Kevin J Macdonald, from Graham and Sibbald, said: "This year has seen a marked increase in numbers of purchasers looking to buy and prices being paid, with many properties also now taking less time to sell than had previously been the case. The reintroduction of closing dates is a further positive sign."
Demand for rental property has risen more modestly than in previous months, with a balance of 13% of surveyors reporting a rise in interest from potential tenants during October.