Orkney energy experts to help set up Singapore test facility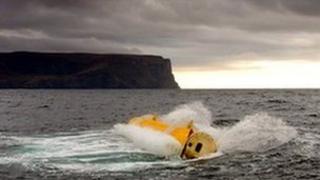 Marine energy experts in Scotland are to help a university set up a testing facility in Singapore.
The Orkney-based European Marine Energy Centre (Emec) has signed an agreement with the Energy Research Institute at Nanyang Technological University.
Under the deal, Emec will give the institute advice on the design, construction and operation of the testing facility.
It is the fifth partnership Emec has formed in Asia.
The centre already has similar agreements with the Ocean Energy Association of Japan, Ocean University of China, Incheon Metropolitan City in South Korea and National Taiwan Ocean University.
Emec has also formed strategic alliances with The Fundy Ocean Energy Centre in Nova Scotia, Canada, and the Northwest National Marine Renewable Energy Centre in Oregon, in the US.
Emec's commercial director, Oliver Wragg, said: "It's important that we work with other countries around the world to ensure there is a global market waiting for our clients who are testing devices in Orkney today.
"With 14 full-scale test berths, and facilities for smaller scale demonstration, we continue to look at ways in which we can provide for our current and future customers both in Orkney and across the globe."
Scottish Energy Minister Fergus Ewing said: "With the signing of this memorandum of understanding, we are seeing yet another region opening up for the marine energy market.
"It is a further example of Scotland's impressive global reach.
"We will continue to look beyond our borders to promote Scottish marine energy expertise and know-how, and to develop partnerships with businesses, research institutes and governments around the world."