Royal Bank of Scotland credit ratings downgraded by S&P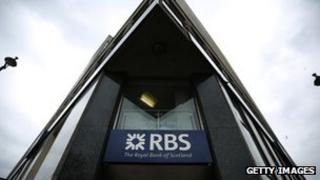 RBS has expressed disappointment after its credit ratings were downgraded by Standard & Poor's (S&P).
The ratings agency said it had removed a "positive transition notch" it had built into the bank's ratings in 2011 in recognition of progress the group had made in restructuring.
S&P downgraded The Royal Bank of Scotland plc and its core operating subsidiaries to A-/A-2, from A/A-1.
The agency also gave the bank a "negative outlook".
It said the move reflected the "negative trend that we see for UK banking industry risk".
The lowering of the long-term and short-term ratings came a week after RBS announced it would not split itself into separate so-called good and bad banks.
In a statement, S&P said: "The lowering of the ratings reflects our view of the changes that RBS has announced to its restructuring plan, which include the creation of an internal 'bad bank' and the accelerated disposals of higher-risk assets.
"In our view, these changes create additional near-term execution risks and further delay the group's return to sustainable organic capital build.
"Although we recognise that the new plan has the potential to support RBS' creditworthiness over the longer term, we consider that the extended and expanded restructuring is not consistent with our previous expectations for the group's progress in its transition."
'Considerable uncertainties'
S&P also said the revised restructuring plan, "with its associated large credit losses and execution risks", had come at a time of continued underperformance in the group's core businesses, including the investment banking and international banking divisions.
It added that "considerable uncertainties" remained over the bank's exposure to future litigation and conduct risk.
The subsidiaries affected by the ratings downgrade are The Royal Bank of Scotland plc, The Royal Bank of Scotland NV and National Westminster Bank plc.
Responding to the downgrade, RBS said: "We are not expecting this downgrade to have a material adverse impact on the liquidity of the group.
"Given the neutral stance of the other agencies, we are disappointed with S&P's decision to downgrade our ratings."
US settlement
In a separate development, RBS has been told to pay nearly £100m as a settlement for the misleading sale of complex financial instruments in the United States during 2007.
A US subsidiary of RBS was found to have misled investors about the safety of home loans behind $2.2bn (£1.37bn) worth of financial instruments.
The residential mortgage-backed securities were one of the main reasons banks made major losses in the financial crash.
The $154m (£95.7m) settlement, which follows an inquiry by the Securities and Exchange Commission, is being met from funds RBS has already set aside.
The US financial regulator said it would use the money to compensate investors "for harm suffered as a result of RBS's conduct".