Aegon UK reports rise in underlying earnings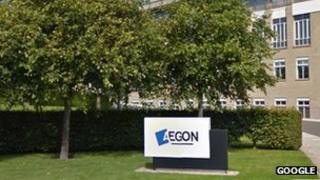 Life insurance and pensions firm Aegon UK has reported a rise in underlying pre-tax earnings for the third quarter.
Aegon, which has its UK base in Edinburgh, saw earnings climb to £23m from £20m for the same period last year.
The company said the rise was due to higher equity markets.
New life sales were up 17% to £190m, which the group put down to auto-enrolment and strong platform and group pensions sales.
Earnings from pensions increased to £6m, up from £2m for the third quarter of 2012.
However, earnings from its Life division declined 11% to £17m.
Aegon said the fall was "driven by unfavourable mortality experience".
The company is part of Dutch insurer Aegon, which reported on Thursday that third-quarter net income fell 40% to 227 million euros (£190.7m), as a result of hedging-related and other losses.
Major restructuring
Aegon UK, which has reduced its workforce as part of major restructuring, reported an £11m loss for the second quarter of 2013.
The move saw it close sales offices in Glasgow, London, Guildford, Birmingham, Manchester and Bristol.
Aegon UK chief executive Adrian Grace said: "It's always pleasing to see a solid set of quarterly figures like these, but the part that really excites me is the future of the business.
"We are now seeing the strategy we have put in place beginning to pay off and we still have a lot more of our proposition to roll out early next year."
He added: "Our transformation is not complete and we're already looking forward to next year when we will roll out the rest of our technology-based proposition for non-advised customers and to our existing customers through their advisers."