Stewart Milne Group sets new homes target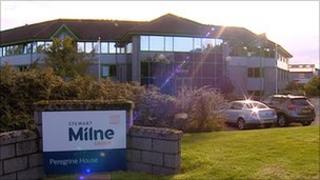 Stewart Milne Group has secured a £225m credit facility to support the construction of more than 5,000 new homes in Scotland and the north west of England over the next five years.
The housebuilder said it aimed to achieve "significant growth" within the next few years.
The Aberdeen-based business reported that demand was "on the rise" and confidence in the sector was improving.
The company has a current annual turnover of about £211m.
Stewart Milne said the Scottish government's new shared equity Help to Buy scheme was stimulating an increase in the supply of new homes.
The company is planning to open 12 new developments in the next year in Scotland and England.
The new credit facility was arranged with Bank of Scotland.
Bank of Scotland area director Mark Prentice said: "We know that the property sector has seen a turbulent few years.
"However, it seems that Scotland's housebuilding sector is now responding to positive signs in the housing market and a notable shift in optimism for growth.
"There is also a strong and ever increasing demand for quality and affordable housing across the country, and with Stewart Milne Group's base in north west England, they are well positioned to deliver that growth."