Lessons from the shipyards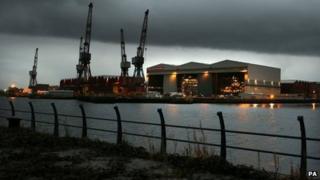 Eight hundred jobs make for a "devastating blow" to the Clyde shipyards, for the workers and their families.
But it's not quite as simple as that. This has been a slow blow. It's been softened by the strange world of defence industry contracting.
It points to a different way of working for those with engineering skills. And it's a challenge to British shipyards to compete for export orders.
This announcement is hardly a shock. In June and July 2009, I reported on a leaked memo from BVT, the shipyard's owner, which would rebrand several times until becoming BAE Systems Naval Ships.
It made clear that talks with the Ministry of Defence were steaming in the direction of today's announcement.
With the aircraft carrier contracts coming to an end, and unless there were export orders, the three yards at Portsmouth, Govan and Scotstoun could not all survive.
The deal struck then was for the MoD to pay the price of rationalisation.
As the leaked memo said: "These one-off rationalisation/investment costs are estimated to be between £115m to £165m for redundancies, site closure, environmental clean-up, equipment disposal and asset write-downs".
The memo said the "one-base option" could save the yard owners £350m to £500m, after the government has paid for the rationalisation.
An implementation plan for the preferred option was due by March 2011. Yard closures would be complete by the end of 2017, with investment in the upgraded remaining yard complete a year later.
Subsequent glimpses of the drawn-out negotiation between MoD and BAE Systems have pointed to the relative weakness of Portsmouth's case. And so it's turned out.
'Inevitable but regrettable'
What does this teach us? For starters, this "inevitable but regrettable" shipyard decision shows us shipbuilding requires long-term thinking. The dates that seemed so distant in 2009 are nearly upon us.
The carrier contract seemed so vast, and the in-service date has receded off to 2020. So it's hard to believe we're already facing the consequences of a wind-down.
It also reminds us what a strange relationship the British government has with BAE Systems. The defence contractor depends heavily on UK and US defence orders. In Whitehall and the Pengago, budgets are being squeezed.
The dependence works the other way too. The UK government needs BAE Systems. Under agreements thrashed out between them, large parts of the defence industry have been consolidated under pressure from the Ministry of Defence.
That's why there's no commercial competition within Britain to win Royal Navy orders. The mergers were the MoD's choice, to reduce over-capacity in a managed way.
BAE Systems has looked to its customer to take 90% of the risk on the aircraft carrier overspend, at least until today's announcement, after which we're told risk is to be shared equally.
Even now, the worst that could happen to BAE Systems is to make no profit on the carriers. That looks to me like a perverse incentive, under some circumstances, to boost internal costs while minimising profit on this contract. With the taxpayer meeting those closure costs, there's another helping hand to BAE's shareholders.
And then there are the offshore patrol vessels. Last week, there was no sign they were needed by the Royal Navy. This week, they're going to get three of them anyway, if only to keep the Clyde workforce busy.
Is there any other part of the public sector where unnecessary equipment is procured in order to keep people busy? Don't be surprised if the Public Accounts Committee takes another exasperated look at MoD spending.
Contracted and mobile
For the workforce, the devastating news comes with awareness that it could have been far worse. Closure for Govan and Scotstoun would have cost 3,200 jobs.
If 800 jobs are to go, it's likely to be with a slow-wind down. And what shipyard workers may find when they look elsewhere is that their skills are sought after.
There are skill shortages in the offshore oil industry. There are power stations to be built.
The next three decades are expected to bring £30bn of work in decommissioning old North Sea equipment.
This reflects changes in the labour market away from public sector contracts, some of which we saw in the recent threat to the Grangemouth refinery and petro-chemical plant. In addition to 1,400 staff, the Forth Valley complex has about 2,000 contract workers, hired temporarily for their specialist skills.
They may find next month's work is in Aberdeen, next year in the next Heathrow terminal development, or one day at the next Hinckley Point nuclear power plant.
In five years or so, it could be that the Type 26 (the replacement for Royal Navy frigates, currently being designed) requires an increase in contract workers on the Clyde, but temporarily.
It's less secure employment than the shipyards, and it can take people away from home. But for those with scarce skills, it's far from the exploitative zero-hours labour market.
Competing to export
What the shipyard contraction also teaches us is that BAE Systems needs to find other customers beyond the UK government.
It used to build for foreign navies, but there are few such orders. And as I explained earlier this week, former foreign naval customers now want to build up their own shipbuilding capacities.
The Type 26 is being designed with a view to export orders as well as the Royal Navy, but perhaps only its design will be successful in winning orders rather than the manufacturing.
So could Govan and Scotstoun return to building civilian ships? The way the industry has gone has been towards specialisation. The failure to do so competitively was one of the main reasons Britain's once-mighty shipbuilding industry has shrunk so far.
Baltic ports build our bigger car ferries and cruise liners. Italians also do cruise liners. Koreans have a large chunk of the specialist cargo sector.
Either cheap labour or elaborate subsidies allow them to compete internationally. But over-capacity is seeing some closures, including one announced recently in Finland.
The question has been raised this week about Norway's ability to sustain shipyards, despite its high labour costs. Why can't Scotland do the same?
The explanation may be the loyalty of Norwegian customers to their own country's yards, particularly in offshore supply vessels and fishing boats.
Outside the European Union, and not subject to the same tendering laws, 86% of Norway's shipyard orders last year came from Norwegian companies.
When Scots companies want new oil platform supply boats, there's no such loyalty. Craig Group announced earlier this autumn it's spending £70m on six vessels, and it's having them built in Spain.
BAE Systems hasn't been in that market. It has operated behind the protection of Britain's desire to keep its complex naval ships domestically built, and it's not clear it can compete on costs for other types of ships.
This week's announcement may be a spur to giving it a try, though.