New flour mill in Kirkcaldy starts production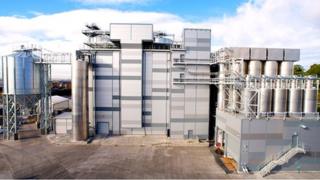 One of the UK's largest millers has completed the installation of a new flour mill at its site in Fife, after receiving £10m in funding from Clydesdale Bank.
Carr's Flour Mills built the new facility as part of a £17m investment in its Kirkcaldy base.
The new mill, which has already started production, is the first to be built in Scotland for 25 years.
It was developed in conjunction with Swiss engineering company Buhler.
Carr's said the mill would improve processing and provide cost savings, as well as reducing the operation's environmental footprint.
Carr's finance director Neil Austin said: "We are delighted with the installation of our new mill which is up and running on time, and within budget as anticipated.
"It will allow us to continue to reliably meet our customers' expectations while doing so in a more efficient manner and delivering to the highest food quality standards."
Carr's Flour Mills is a subsidiary of Carr's Milling Industries, which is listed on the main London Stock Exchange with a current market value of £140m.