US boost for Scotch Beef producers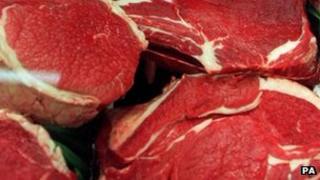 Scotch Beef is set to make a return to menus in the US for the first time in nearly 20 years.
It follows a move by US officials to reopen the American market to EU beef and other bovine products following a ban put in place in the 1990s.
Some technical details have still be ironed out, meaning it will be next year at the earliest before exports resume.
Scottish ministers described the move as a "massive breakthrough".
The US authorities banned European beef imports in the 1990s, when concerns were raised over BSE infecting the human food chain.
Rural Affairs Secretary Richard Lochhead said: "I'm delighted that these long-standing trade barriers have been lifted.
"Scotch Beef has been off the menu in the USA for far too long and the reopening of an extremely lucrative market is a tremendous opportunity to expand our beef exports and one which I am keen for the industry to grasp.
'Vitally important'
"We look forward to the USA agreeing to the resumption of imports of other iconic Scottish products such Scotch lamb and haggis, and this deal on beef may well be an important step forward to achieving that.
"Of course, there are still a few technical details of this beef agreement to be ironed out - such as health certificates - so it will be next year at the earliest before any export activity starts."
Mr Lochhead added that it was "vitally important" to Scotland's red meat industry that the UK government started to put procedures in place now to avoid unnecessary delay.
Scottish Secretary Alistair Carmichael called the US announcement "an important milestone".
He said: "The UK government through its extensive diplomatic, consular and trade networks is working hard across the globe to open the doors to Scotland's high quality food and drink products as both this announcement and the recent multi-million pound beef and lamb trade deal between the UK and Russia shows."
'Significant opportunity'
Anne MacColl, chief executive of trade promotion agency Scottish Development International, said: "Scottish Beef was among the first European red meat products to be awarded the coveted Protected Geographical Indication (PGI) status over 25 years ago and is recognised as being world class.
"The US continues to be the largest single export market for Scottish goods and services and food and drink exports to the US increased by 30% in 2012 to just under £1bn.
"The opportunity for Scotland's beef industry is therefore significant and we will continue to work with Scottish producers to support their growth into new markets and capitalise on global opportunities."