Used car buyers being 'ripped off', Citizens Advice Scotland warns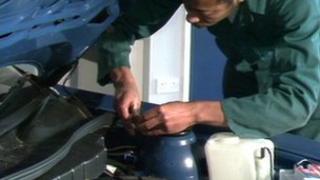 Thousands of Scots a year are being sold faulty used cars by "rogue" dealers, a new report from Citizens Advice Scotland (CAS) has suggested.
The charity said nearly 100 people were contacting its consumer helpline every week after being "ripped off" by dealers.
One out of every 10 callers reported their cars were unsafe to drive.
CAS estimated Scots were spending more than £600,000 a week on used cars which were faulty.
The organisation dealt with nearly 4,800 complaints about used cars between October 2012 and September this year.
Of 190 calls received by the charity's consumer advice line in the first two weeks of September, 69% reported their car had developed a fault within three months of purchase.
A further 12% said the car was unusable, while 59% reported that repairs were needed.
The average age of the car at the time of purchase was five years old.
The CAS campaign to raise awareness about the issue was launched at the start of National Consumers Week.
CAS chief executive Margaret Lynch said used cars were one of the biggest areas where consumers were being exploited.
"At a time when many Scots are struggling financially and looking for ways to save money, rogue car dealers are cynically ripping them off by selling them vehicles they know are duds," she said.
"Every industry has its rogues, and it's only fair to say that many used car dealers operate fairly.
"But the minority in this industry who exploit their customers are not only ripping them off, but in many cases are putting lives in danger by letting cars on the road that are not safe to drive."
Ms Lynch added: "These figures are shocking, but it's worth remembering that these are just the cases that were reported to us at the CAB service.
"There will be many more cases out there which have been reported to other authorities, or which haven't been reported at all."
CAS says it is vital that car purchasers check what they are buying before parting with their money.
Car dealer John Cleland, a former racing driver who is backing the campaign, said it was important that customers got a fair deal.
"There are a number of quick and easy steps people can take to make sure they are buying a decent motor - taking the car for a test drive can really help you decide if the car is right for you," he said.
"Watch out for things like frayed seatbelts, signs of big accident damage or heavily worn tyres that should be a red light to buyers."
The UK government's consumer minister, Jo Swinson, is also backing the campaign.
She said: "Last year over seven million used cars were sold in the UK.
"As Citizens Advice Scotland figures highlight, too many consumers end up footing the bill when their car needs repairs or, worse still, is unsafe to drive just weeks after purchase.
"Consumers need to know what to look out for when buying a used car."