BMI Regional to scrap five routes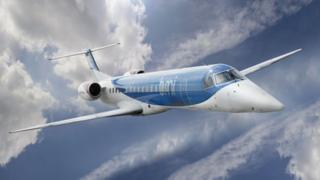 BMI Regional is to axe five routes and pull out of three UK bases, a year after it launched as a fully independent airline.
BMI said it was closing its bases in Edinburgh, Birmingham and Manchester, following a "comprehensive review" of operations.
A total of five routes will be scrapped, between November and January.
The decision to pull out of the bases will leave Aberdeen and Bristol as BMI's main hubs.
The airline said most of its European operations would be unaffected.
Its Aberdeen to Manchester route will continue but will be crewed from the Scottish city.
The airline, which employs about 400 people, expects no net job losses as a result of the move.
The routes affected are: Manchester to Edinburgh and Antwerp; Birmingham to Billund; and Edinburgh to Copenhagen and Brussels.
A BMI Regional spokesman said: "Following a comprehensive review of our network, BMI Regional has announced the closure of five routes.
"BMI Regional is to focus on routes elsewhere in Scotland and in other parts of the UK and Europe.
"As a result, our crew bases in Birmingham, Edinburgh and Manchester will close.
"We have started consultations with affected employees, including the opportunity to move to one of our other crew bases.
"We would like to reassure all customers booked to fly with us on the affected routes that services will operate up to the termination date - 29 November for Manchester, 31 December for Billund and 5 January for Edinburgh to Copenhagen and Brussels.
"We will be in contact with passengers booked beyond these dates to offer alternative arrangements or refund."
Only last week the airline announced a new route from Newcastle to Brussels. It also launched services between Aberdeen and Oslo on Monday.
The business was carved out of BMI in May last year, after the larger airline was taken over by British Airways owner IAG.
'A shame'
Edinburgh Airport chief executive Gordon Dewar said: "We can confirm that BMI Regional will close their operational base at Edinburgh Airport from January.
"It is a shame to lose the BMI brand which we have been associated with for many years.
"We are pleased, however, that of the three destinations served by BMI Regional, Manchester is also served by Flybe, Brussels is also served by Brussels Airlines and Copenhagen is also served by both easyJet and Norwegian.
"We will work with these carriers to ensure that we still meet and exceed our customer needs in these markets".
BMI Regional, which operates 18 Embraer jets on scheduled services as well as leasing and charter contracts in the UK and Europe, was bought for £8m by Sector Aviation Holdings (SAH) last year.