Standard Life reports 9% increase in funds under management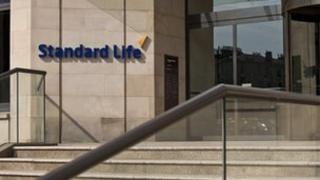 Standard Life, the Edinburgh-based pensions and savings giant, has reported a 9% boost to the funds it manages.
It also increased fee-based revenue by 15% as the pensions industry shifts to the new workplace auto-enrolment system.
The company's trading statement covered the first nine months of the year.
It showed that assets under management were up to £238bn, as it attracted new savings to its own products.
New business for its long-term savings was up by a fifth to £17.3bn.
Some £1.2bn was attracted into its fund management division, Standard Life Investments, in the July to September quarter. Sales outside the UK were up most strongly.
However, the update fell short of market expectations, leading to Standard Life's share price falling nearly 4%.
David Nish, the chief executive, said: "We have assisted employers with over 100 auto enrolment implementations and have increased the number of corporate pension customers to 1.4 million, adding 195,000 new customers.
Standard Life Investments has delivered strong net inflows, excellent investment performance as well as expanding its product range and geographic reach, while continuing to grow revenue in the third quarter".
"Canada is making progress in transforming its business and our Indian joint venture delivered another strong performance.
"We look forward to the future as our propositions, distribution capability and strong balance sheet mean we are confident we can deliver ongoing improvements in value for our customers and shareholders."