Fraser of Allander Institute raises Scottish economic growth forecast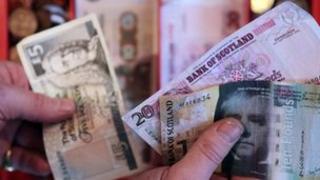 A leading forecaster has raised its estimate of Scottish economic growth.
The Fraser of Allander Institute at Strathclyde University said growth in gross domestic product (GDP) this year was likely to be 1.3%.
Its forecast in June was for growth of 0.9%, whereas the long-term average growth over the past 50 years has been around 2%.
But the institute cautioned about too much household borrowing at a time when spending power is not increasing.
The institute also raised its growth forecast for next year to 1.8%, compared with its previous estimate of 1.6%. The 2015 forecast remained at 2.1%.
However, the economists remain cautious about the recovery, because the evidence shows it is being driven by consumer spending.
This is at a time when spending power is not increasing, as inflation outstrips wage growth. So it implies that people are borrowing more heavily, when there was a need to reduce indebtedness.
And they assessed the potential impact of the closure of Grangemouth refinery and petro-chemical plant, which were at risk from last week's industrial dispute.
The institute's director, Prof Brian Ashcroft, said: "If they had closed, they would have blown away next year's growth, so we're grateful for the outcome we saw last week".
There were improvements in Scottish manufacturing and in exports, but the report said there needed to be more exporting and more business investment to secure sustainable growth.
It also included forecasts for employment. The central estimate for the number of Scots in work saw a rise of 21,200, up from a forecast in June of 14,200. The forecast of 27,200 more Scots in work next year was down slightly from the previous forecast of 28,200.
However, the report also forecast a rise in unemployment, while growth remained below the trend level for the economy.
'Consumer expenditure'
Whereas the proportion of the Scottish workforce seeking work is currently at 7.3%, the Strathclyde economists foresaw a rise to 8.4%, or 224,800 people by the end of next year, then falling back to 186,500, or 7% of the workforce, by 2015 as growth strengthens.
Prof Ashcroft added: "After five successive quarters of GDP growth we are now witnessing a more robust recovery.
"Jobs are being created, unemployment is falling and many people that had despaired of finding work are now re-entering the labour market.
"However, we are still predicting below trend growth next year, reflecting the continued relative weakness of domestic demand, in particular government spending and consumer expenditure, and only slowly rising growth in eurozone markets but stronger growth in the rest of UK."
Welcoming the report, Finance Secretary John Swinney said: "This reflects the continued quarterly growth in the Scottish economy over the past year.
"These forecasts follow on from recent GDP and labour market statistics, which showed Scottish employment levels at a five-year high and the economy continuing to grow over the year."
The Secretary of State for Scotland, Alistair Carmichael, said the forecasts were "great news for Scotland".
He added: "The growth underlines Scotland is doing well as part of the UK and benefitting from the steps the UK government has taken to stabilise the economy.
"There is a great deal of work still to be done in securing jobs and maintaining this momentum and both Scotland's governments must use their respective powers to support families and businesses."