Sales of Tennent's beer decline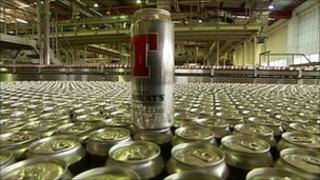 Sales of Tennent's beer fell in the half year to the end of August although profits rose by more than 9%.
In total the volume of sales fell by nearly 6% with the value down 3% and revenue dropped by 4.6% to £93m.
However, the group which owns the Tennent's brand said it was performing well and said sales of the Caledonia Best beer grew by 39%.
Operating profit for the period increased 9.2% to £14.4m as the company's profit margin improved.
Dublin-based C&C Group is best known as a cider maker and owns the Magners and Bulmer brands.
In its half year results, it said the Irish pub market had turned a corner.
Operating profit for the group as a whole rose by nearly 8% to £60m.
C&C said that its Tennent's business was developing.
Earlier this year the company announced that it had taken a 50% stake in wine and spirit wholesaler Wallaces Express.
Stephen Glancey, C&C Group chief executive, said: "Our model in Scotland continues to evolve towards a full multi-beverage platform and further progress has been made in the period with the investment in Wallaces Express in March.
"We also launched our own ontrade wine portfolio in the Scottish market and have been encouraged by initial progress."