Smart packaging firm Insignia Technologies draws investors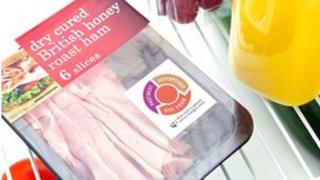 A Scottish firm which has developed a smart label that warns when food is past its best is to press on with trials in the US and Europe after being backed by a range of investors.
Insignia Technologies has been given nearly £900,000 to help commercialise its "smart pigment" technology.
Its smart label is designed to change colour over time to show how long a packet of food has been open.
Insignia will now complete trials with supermarkets and packaging companies.
The investment of £865,000 in Insignia was led by Equity Gap along with Highland Venture Capital, the Scottish Investment Bank, the University of Strathclyde and a number of private investors.
The announcement comes amid rising public concern about the amount of food waste in homes and supermarkets.
Last week, Tesco revealed it had generated almost 30,000 tonnes of food waste in the first six months of 2013.
And Zero Waste Scotland estimated recently that Scottish households throw away 566,000 tonnes of food every year.
'Clear benefits'
Insignia, which is based at life sciences research centre Biocity at Newhouse in Lanarkshire, said its patented technology had "clear benefits" for shoppers, retailers, and food producers.
In a statement, it said: "Removing the confusion around how long a pack has been opened it reduces unnecessary food waste while restoring consumer confidence in certain food categories which in turn drives repeat purchase and increased sales."
Insignia chief executive David Kilshaw said the recent investment gave the company an opportunity to press on with customer trials in the UK, US and Europe and drive the business towards commercialisation.
"As importantly, the investment provides the necessary funding to drive the development program being carried out by our technical team, both with regards to the existing technologies, as well as future research projects," he added.
Kerry Sharp, director of the Scottish Investment Bank at Scottish Enterprise, commented: "Insignia Technologies is an excellent example of a Scottish company developing innovative new technology to address global problems."
Insignia will initially target the food production and processing sector, but has plans to expand into other areas including healthcare, cosmetics and pharmaceuticals.
The company was formed in August 2012 as the result of a merger between Dundee-based intelligent inks firm Insignia Pack Ltd and Novas Technologies Ltd, a University of Strathclyde spin-out company.