2014 Ryder Cup: Two Scottish firms win supplier contracts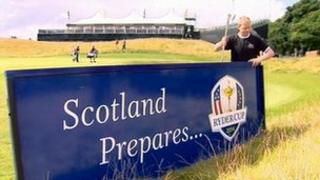 A security firm and a temporary accommodation provider have become the first Scottish companies to win supplier contracts for next year's Ryder Cup through the event's official procurement portal.
Hamilton firm Portakabin Events and Glasgow-based SecuriGroup won the contracts after a competitive tender.
The contracts had featured on the Public Contracts Scotland website.
The 2014 Ryder Cup is due to be held at Gleneagles in September next year.
Portakabin Events, which employs 120 people in Scotland, will supply 80 temporary offices and 20 storage units to the Ryder Cup.
They will act as the administrative heart of the event for stakeholders such as the PGA of America, EventScotland and Ryder Cup Europe.
Security company SecuriGroup will provide more than 700 staff to cover overall safety and security services.
Procurement portal
It is the first time the Scottish government's website for procurement has been opened up to handle a private sector event.
The procurement portal is a joint initiative between Ryder Cup Europe, the Scottish government and Scottish Enterprise.
Other contract opportunities available on the portal include transport, merchandising, waste management, barriers, fencing, telecommunications and other infrastructure-related areas.
Antonia Beggs, operations director for the 2014 Ryder Cup, said: "The PCS (Public Contracts Scotland) portal has enabled us to streamline our procurement processes.
"Importantly, it has also given as many Scottish businesses as possible forewarning of the contracts on offer.
"We are already seeing the fruits of that labour as we have heard from many local suppliers keen to become involved with the event."
Ryder Cup Europe have said they hope 5,000 people will be involved in supplying goods and services to the Gleneagles event next year.