Registers of Scotland: Surge in number of homes sold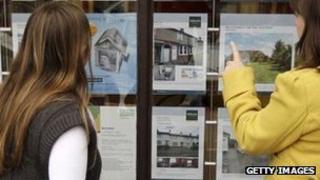 The number of Scottish homes changing hands rose sharply in the last quarter, according to the latest official figures.
A total of 24,274 properties were sold between July and September - 22.5% more than the same period last year.
It was the highest quarterly figure recorded by Registers of Scotland since 2008.
Average prices across Scotland rose by 1.5% year-on-year, raising the average cost of a home to £161,748.
The figures also showed a 24.4% year-on-year increase in the total value of residential property sales, which stood at £3.92bn.
The highest priced properties during the quarter were in Edinburgh, where the average home changed hands for £222,759.
Aberdeen recorded the highest percentage rise in prices, with values jumping 9.9% compared with the same period last year, to an average of just over £210,010.
Glasgow also experienced a 19.4% increase in residential property sales when compared with the same quarter last year.
'Revitalised' market
One of the largest drops in average house price was seen in East Dunbartonshire, where values fell by 8.6% to £205,122.
Prices in the Scottish Borders increased by 6.4% to just over £173,200, while Dundee saw only a modest rise of 2.1% to just under £130,300.
House prices in the Highland Council area remained flat, rising by just 0.2% to £153,900.
Registers of Scotland commercial services director Kenny Crawford said: "This quarter's figures are one of the strongest indicators yet of a revitalised Scottish property market.
"This is the fourth consecutive quarter that volumes have increased, maintaining the upward trend."
'Positive indicator'
Industry body Homes for Scotland welcomed the latest statistics.
Chief executive Philip Hogg said: "This positive indicator is further reinforced by the recent addition of the Help to Buy (Scotland) shared equity scheme, which has already proven to be a major stimulus to market recovery since its launch just last month.
"However, whilst both consumer and business confidence may be growing, if we are to build enough homes to meet Scotland's requirements we need to address the supply-side issues such as skills, developer contributions and the release of land for housing which may yet hamper a sustainable recovery."