First Minister Alex Salmond to lead China trade mission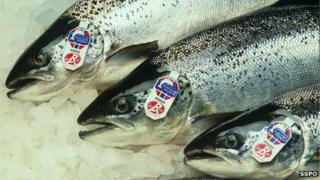 First Minister Alex Salmond is to lead a delegation of oil and gas and construction companies on a trade mission to China later this week.
The five-day visit, which starts on Saturday, will be Mr Salmond's fourth official trip to China since 2007.
Industry representatives will take part in government and business meetings in Beijing and Hong Kong.
A Scottish seafood showcase will also be held, as well as events aimed at strengthening education links.
The oil and gas delegation will include companies such as Adrok Group, Addax Petroleum, Aggreko, Amec and Petrofac.
The construction sector will be represented by a range of companies, industry bodies and institutions including Construction Scotland, Applegreen Homes, building standards body BRE Scotland and Universities Scotland.
The Scottish government is aiming to build on the steady growth of exports to China, which have risen from £265m in 2007 to £498m in 2012.
'Economic powerhouse'
Mr Salmond said: "China is an economic powerhouse with the second largest economy in the world and it is crucial that Scotland strengthens its position as an attractive place for Chinese investors and an exporter of high quality goods for that market."
The Far East has accounted for an increasing proportion of global fresh Scottish salmon sales in recent times, reaching £37m in the first half of 2013. China accounted for more than half of total sales to the region in the first two quarters of this year.
In 2012, exports of Scotch whisky to China were valued at £71.5m - two years after the drink received geographical indication of origin status in the country, which protected it against counterfeit products.
Mr Salmond said the Scottish government's ambition - as set out in its China strategy - was to broaden and deepen existing links between the two nations.
He added: "That is why I will lead a trade mission to China, showcasing the expertise of Scotland in the oil and gas and construction sectors, opening doors at the highest level of Chinese business and holding talks with the Chinese government as well as promoting a separate seafood delegation showcasing the best of Scottish produce at a major expo."
'Favourable opportunities'
The Consul General of the People's Republic of China in Edinburgh, Li Ruiyou, said he was "very pleased" to learn of Mr Salmond's latest visit.
"Recent years have witnessed the continuous progress of exchanges and collaborations between Scotland and China in sectors like education, culture, tourism, trade and science and technology," he said.
"Looking into the future, the social and economic progress of China and the expertise and high quality products of Scotland furnish favourable opportunities for complementary co-operation between Scotland and China."
In June a committee of MSPs said a direct air link between China and Scotland could be "instrumental" in increasing Scotland's trade and tourism.
Holyrood's External Relations Committee recommended a direct air link, more Mandarin and Cantonese language lessons and strengthening cultural ties.
It recommended a direct air link, more Mandarin and Cantonese language lessons and strengthening cultural ties.
The committee was holding an inquiry into the Scottish government's China strategy.