Internet exchange point 'will speed up access'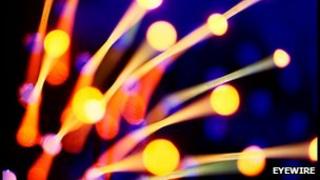 New infrastructure has been put in place to speed up internet access in Scotland, ministers have announced.
A dedicated internet exchange point (IXP), which will make it easier for internet service providers in Scotland to pass traffic to each other, is to go live this week.
IXScotland is expected to reduce internet "lag" time by up to 75%.
Currently most of Scotland's internet traffic goes through London, Manchester or Leeds, which can result in delays.
IXScotland, which is based at the Pulsant data centre in Edinburgh, was set up by the London Internet Exchange (Linx).
Announcing the new IXP, Finance Secretary John Swinney said the move would allow internet service providers to securely pass traffic to each other in Scotland.
He added: "Along with our investment in next-generation broadband and measures to increase digital participation, this investment represents a further step on Scotland's journey to becoming a world leading digital nation by 2020.
"Central to this will be development of future-proofed infrastructure that supports high quality connectivity on any device, anywhere, at any time."
'Step forward'
Linx chief executive John Souter said IXScotland was "a real step forward" for the internet community in Scotland and the UK as a whole.
He added: "The exchange will allow networks to stop 'tromboning" traffic to London and back again, and will help increase resilience by creating a new centre for interconnection in the UK."
The announcement came as the Scottish government released its second annual digital strategy progress report and update.
The report outlines progress made in the last year across all four main strands of the government's digital strategy.
The strategy includes an undertaking to invest more than £240m in extending next-generation broadband access to 95% of premises in Scotland by 2017/18.