Scottish business distress levels 'fall sharply'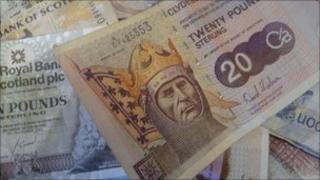 The number of Scottish businesses in financial distress has fallen sharply but the improvement is being led by larger firms, a report has suggested.
Recovery specialist Begbies Traynor found a 13% fall in companies in distress in the third quarter, compared with the same period a year ago.
But its latest Red Flag Alert indicated larger companies were seeing "the lion's share" of the improvement.
Those struggling - often smaller firms - were "barely staying afloat".
The report also found a big disparity in distress levels across different sectors.
Construction, logistics and property services saw big year-on-year falls in "significant" distress, in sharp contrast with the hospitality industry which recorded a big rise.
In the three months to September, instances of significant distress - defined as a court action pending or poor or out-of-date accounts - fell from nearly 13,800 in the third quarter of 2012 to just under 12,000 in the latest three-month period.
Critical distress
Scotland's businesses also saw a 43% fall from last year in the most serious instances of "critical" distress - namely decrees totalling more than £5,000 or winding-up petitions.
Overall distress levels in Scotland fell year-on-year at a much faster rate than the UK average.
However, the report suggested a quarter-on-quarter rise of 23% in the number of Scottish firms suffering critical distress, compared with a UK average fall of 2%.
Ken Pattullo, group managing partner in Scotland for Begbies Traynor, said: "We have seen larger falls in certain instances of distress than the rest of the UK and whilst that is good news it doesn't really tell the whole story.
"Larger corporates are seeing the lion's share of the improvement and certain sectors are also seeing an upturn whilst others are firmly in the doldrums."
He added: "The fortunes of different sectors and sizes of business continue to be poles apart.
"Those that are struggling, often the smaller firms, are barely staying afloat, and, in contrast, the larger businesses that are thriving are pulling away from trouble at a rate of knots.
"That's giving this very patchy picture of distress that fragments the economy into growth and contraction in different businesses at the same time."
Store closures
Meanwhile, a report by PwC and Local Data Company suggested an average of three Scottish stores closed per day in first six months of 2013 - almost three times the number closing over the same period last year.
However, it also found that store openings were finally starting to outstrip closures, with almost four times as many stores as last year opening in the first half.
The report said fashion shops, jewellers, shoe and photography outlets were worst hit, while hairdressers, fast food outlets, discount stores, cheque cashing and betting shops bucked the trend.