Ratings downgrade for Edinburgh-based Aegon UK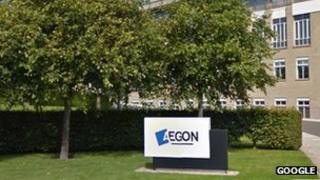 The life insurance and pensions firm, Aegon UK, has had its financial strength rating downgraded from a B+ to a B.
The ratings agency and actuarial firm, AKG, also raised questions over the group's commitment to the UK market.
The Dutch-owned firm says AKG's report contains inaccuracies but declined to say what they were.
Aegon, which has its UK base in Edinburgh, reported an £11m loss for the second quarter of 2013.
The firm has reduced its workforce as part of major restructuring which cost Aegon £27m in the second quarter.
It has closed sales offices in Glasgow, London, Guildford, Birmingham, Manchester and Bristol.
An Aegon spokesman said: "We consider this report to be inaccurate and we do not believe the interpretation given on publicly available data truly reflects the position of Aegon UK.
"We have been speaking to AKG since August and have pointed out some of these inaccuracies. We look forward to this open dialogue continuing."
He added: "Aegon in the UK is part of the Aegon NV group - one of the world's largest and strongest insurance companies."
It is rated A- by Standard and Poors, A3 by Moodys and A by Fitch.