Chemical sales drive export growth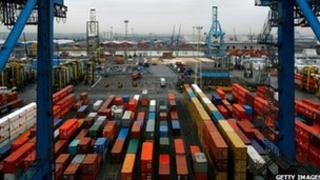 Refined petrol and chemicals were among the stronger sectors of the Scottish economy, according to the latest manufactured export figures.
According to the Scottish government, total overseas sales grew 3.5% in the second quarter of this year.
Engineering also proved to be a strong factor.
The strength of refining and chemicals underlined the importance of the closure-threatened Grangemouth complex for the economy.
The data shows that refined petrol and chemicals account for nearly a quarter of manufactured goods sold to the rest of the world.
Exports over the most recent quarter grew by 4.2%, which was at a slower pace than previous quarters.
Overall following poor exports in the second half of 2012, the year-on-year figure for total manufactured exports was down 1.8%.
Neil Francis, director of international operations at Scottish Development International, said: "These latest figures reinforce continued global demand for Scottish products, particularly those within the engineering, textiles, chemical and pharmaceutical sectors.
"With economic recovery gaining momentum, we are seeing more and more Scottish companies look to new and emerging markets such as Asia, Middle East, Africa and South America, as well as sustaining growth in the more traditional economies."
He added: "We continue to work hard with our partners to help support ambitious companies with global potential and we are encouraged by the positive outlook for Scotland's manufactured exports."