Fish firm Marine Harvest raises production forecast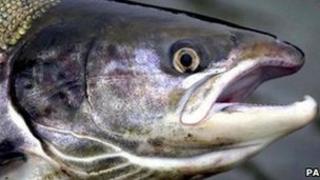 The world's biggest fish farming firm, Marine Harvest, has lifted production forecasts and praised its Scottish operations for delivering a "record high result".
The company which is based in Norway, announced third quarter profits of 793m Norwegian crowns (£83m).
Marine lifted its production forecast for both 2013 and 2014 to respectively 340,000 and 405,000 tonnes.
The firm employs about 450 people throughout Scotland.
It has farms in the north west of Scotland and the Western Isles.
Chief Executive Alf-Helge Aarskog said: "The strong market, combined with solid operational performance enabled good results in the quarter.
"The strong market outlook encourages us, and Marine Harvest is well positioned to take advantage of it."
He added: "I would like to highlight the results of Scotland.
"Scotland delivered a record high result, and we congratulate the team with the achievement."
Marine Harvest has a presence in 22 countries and has a total of 10,400 employees worldwide.
It is listed on the Norwegian stock exchange.