Private housing projects 'on rebound', Rics survey says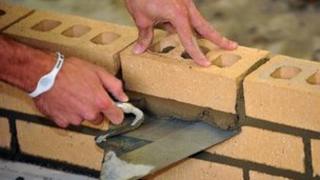 Privately-funded housing projects are on the rebound, according to a construction market survey.
About a third more chartered surveyors reported increases in work in the three months to September compared with the previous quarter.
The Royal Institution of Chartered Surveyors (Rics) said this was the highest rate since 2007.
It said growth had been reported in each part of the UK for the first time since the start of the market crash.
The survey suggested that workloads in the overall construction sector had increased at their strongest rate in the past five years.
Employment prospects also increased, with a higher proportion of surveyors expecting more jobs to be created over the next year.
Sarah Speirs, director of Rics Scotland, said: "While it's certainly good news that construction, and especially house building, is finally on the rise right across Scotland, we are certainly not out of the woods yet.
"Critically, we are still way behind in terms of building enough homes to meet the nation's growing housing need.
"In response to this, Rics has recently launched the Scottish Housing Commission which, with cross-sector examination, will provide a detailed recommendation report in January 2014."