Pay rising for new recruits, says Bank of Scotland jobs report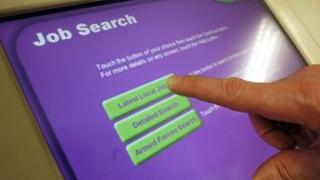 Pay for new recruits is on the rise, according to the latest market report from Bank of Scotland.
There has also been a continued improvement in permanent and temporary placements, with the strongest prospects in Aberdeen.
In other economic news, retailers saw a downturn in shopping last month.
But, the Scottish Retail Consortium said this may be because household budgets were being managed cautiously ahead of the Christmas spend.
Statistics published last week provided more evidence that pay increases for those in employment were falling behind inflation.
The Bank of Scotland's jobs report for September suggested the answer may be to shift to a new job.
Greater demand
Starting pay rose at the fastest pace in six years, and hourly pay for temporary jobs increased at a sharp pace too.
Scottish recruiters reported a further increase in the number of candidates placed into permanent work in September.
The rate of growth was marked, despite having eased from the survey-highs in the previous two months.
About 40% of panellists placed a larger number of candidates into permanent work since August, and often linked this to greater client demand, the report said.
The Bank of Scotland's labour market barometer picked up slightly in September, rising to 60.0 from 59.7 in August.
The barometer is measured against a baseline of 50, with anything above that number representing an improvement in market conditions. Any number below 50 means a deterioration.
With continued improvement in labour market conditions, vacancies grew most strongly in engineering and construction during September.
Aberdeen saw the strongest growth in recruitment and the fastest rise in starting pay, thanks to big investments by oil and gas firms.
Donald MacRae, chief economist at Bank of Scotland, said: "September's Labour Market Barometer showed a continuing improvement in Scottish job market conditions.
"The number of people appointed to both permanent and temporary jobs increased while growth in vacancies was marked.
"The Engineering and Construction sectors saw the highest rate of vacancy growth for almost two-and-a-half years. This is further welcome evidence of the strengthening of the recovery in the Scottish economy."
Managing budgets
Meanwhile, latest figures from the Scottish Retail Consortium provided evidence of an autumn stall in recovery for the high street and shopping centres.
In September, shopper numbers in Scotland were 2.7% lower than a year ago - and down on the 0.3% decline seen in August 2013. For the UK as a whole footfall was down 2.7%.
Fiona Moriarty, director of the Scottish Retail Consortium, said: "It's disappointing to see Scottish shopper numbers have dropped significantly after a solid result in August.
"While recent months have hinted at economic recovery, many of us are still cautious about making major purchases and may want to focus on managing budgets ahead of Christmas."
She added: "There's been better news in recent weeks, with signs that customers are responding well to autumn collections and thoughts are turning to the festive season.
"Retailers in Scotland will continue to monitor conditions closely as they gear up for the crucial Christmas trading period."