The tycoon behind the Grangemouth dispute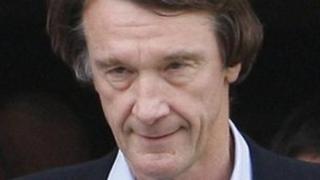 Ineos has been described as "the biggest company you've never heard of".
That was before the Grangemouth strike in 2008, and it's certainly got a higher profile now.
If you're in doubt about its size, consider these numbers: $43bn in annual sales, 60 million tonnes of output and 51 industrial units in 11 countries.
Yet it was founded only 15 years ago, and came perilously close to collapse with the credit crunch.
Its low profile is partly because its brand is not used to sell to the public. Most of the petrol and diesel sold across Scotland and the north of England is Ineos refined, but it's retailed by others.
It's also because the company culture is a private one. As I explained before, it moved to Switzerland from its previous Hampshire headquarters over Britain's tax regime, and while its finances are controlled from Rolle, on the lakeside between Geneva and Lausanne, it's hard to find out about them.
Blue chip assets
It's also because the man at the top is not one to court publicity.
Jim Ratcliffe is aged 60, a chemical engineer, trained in Birmingham, before turning accountant and entrepreneur. He was reckoned to be one of Britain's 10 richest men before the credit crunch, worth £2.3bn. The crunch cut that a tad, and the Forbes billionaire list this year put him on $1.1bn (£680m).
Ineos started by buying a Belgian chemical plant in 1998, for less than £90m. The start-up's good fortune was that ICI was in the process of flogging much of its chemical business.
Jim Ratcliffe was after assets which had been managed by such blue chip firms, bringing high quality staff with them. He's followed changes at the top of the big oil majors, and as each new chief executive starts his job by reviewing assets, Ineos has been ready to pounce on those that come on the market.
The big prize was BP's chemicals division, Innovene. As he tells the story now (in a promotional film you can see on YouTube), BP valued it at $9bn.
He persuaded Barclays to lead a bank consortium with three partners putting up "three billion a pop", and in ten weeks of hasty due diligence, Innovene was his. That was five years ago. It lifted Ineos into the big league, as one of the world's five big chemical firms, and it put him in charge of Grangemouth.
Energy revolution
A technical default on the bank covenants of one of his loans led him to crisis point during the credit crunch, and the banks took the opportunity to add charges of nearly $900m. But Ratcliffe got a deal from them to stay afloat, and he's back on an even keel. What he calls this third stage of Ineos' development is about more organic growth than aggressive acquisition.
Access to credit obviously isn't as it was a decade ago. And the Asian markets he's now targeting require him to work with partners who know how to operate there - notably in China, which he's claimed will soon have half of the world's chemicals industry.
And that global outlook is what should cause most concern about the future of Grangemouth. From Jim Ratcliffe's point of view, there are much better returns to be made investing in North America, where the 'feedstock', or input to chemical processes, is around quarter of the price in Europe due to the shale boom. It's yet another way that energy markets have been turned on their heads by that technology.
He's said that his European assets will have to shift to that cost structure, which is why he's adapting his Norwegian petro-chemical plant for imports from the US, and why he plans (subject to government support and big concessions in workforce costs) to invest £300m doing the same at Grangemouth.
Cracking the refinery market
We've taken a look at the global industry for refining and petro-chemicals in this weekend's Business Scotland programme. And what we've learned will only increase concerns about Grangemouth's future.
Its petrochemical plant is suffering from low levels of the gas content in oil coming down the pipeline from the Forties network, so it's been running recently at less than 60% of its capacity.
The worldwide industry is highly competitive, with low margins attached to big bulk. And what we heard from Grangemouth's Labour MP, Michael Connarty, is that the UK government is failing to match other government's "hidden subsidies" to chemical industries, such as those in Germany.
While Ineos has not threatened the future of Grangemouth's refinery - not yet, anyway - what we heard was that the refining sector is in a lot of difficulty. Alan Gelder, head of oils research at consultancy Wood Mackenzie, told me that last month, the industry made no margin at all on refining oil.
But it's a longer term problem than that. Europe's refining were mostly built in the 1960s and 1970s, for an economy geared to ever-increasing consumption of petrol. Since then, the growth in demand has been subdued by more fuel efficient cars, and by a shift to diesel.
As a result, Europe is exporting petrol, but has to import diesel from other parts of the world. And in the Middle East and Asia, huge refineries are being built which are more efficient than Europe's and better geared to the relative needs for diesel over petrol, and aviation fuel over heavier oil for shipping and heating.
Alan Gelder told me they're not being built as smart financial investments, but by state-backed corporations but for reasons of energy security. Two years ago, PetroChina paid $1bn for a half-share of Grangemouth refinery, and Gelder reckons it was more as a learning experience than to make money.
In Michael Connarty's opinion, following the closure of refineries in England, it's not clear that the UK government has any opinion on the importance of securing supplies close to home.
You can hear the Business Scotland programme about the global refining market, the history of Grangemouth, with contributions from Jim Ratcliffe and a discussion on what the current dispute means about industrial relations. It will be broadcast on Radio Scotland at 10:00 on Sunday, and is already available on BBC iPlayer and by free download.