Shedding light on Grangemouth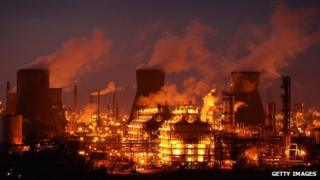 Amid a lot of heat at Grangemouth, the shutdown hasn't completely extinguished the light.
So we're now looking at the prospect of a choreographed re-start - a written pledge from Unite that it won't strike before the end of December, and a parallel commitment from Ineos that it will respond by firing up its operations.
This much, if it gets confirmed on Friday, was brokered by the First Minister in meetings on Thursday evening.
Ineos, which runs Grangemouth refinery and petro-chemical plant, is looking to get £9m out of the Scottish government, which gives him some leverage.
And you can sense the company has been left in no doubt by either Holyrood or Westminster that they will, whatever else happens, keep the road tankers rolling out to petrol stations.
But the events of the past few days have put Ineos in a stronger position, while Unite is left to wonder how it blundered into an industrial relations trap.
I'm told they knew they had to use their strike mandate cannily, but the move to use it for 48 hours this weekend was "a rush of blood to the head", giving Ineos the opportunity to pounce.
Cold condition
With one side sensing its strong position, and the other side wounded, neither feels like compromise.
So there are genuine fears in government that the rapid escalation of the Grangemouth strike could mean a continued stand-off.
And although it's being assumed that neither side wanted to shut down operations, that impasse could leave them trapped into a position in which Grangemouth never gets started again.
A joint statement from the two sides was too much to ask. But the choreography of starting with a written statement is intended to put Ineos in a position where it has no excuse to keep the plant shut down, in "cold condition".
Cost crackdown
One of the unusual factors in this dispute is that Ineos doesn't have so much concern about its public reputation. It doesn't sell to the public, and it's been described as "the biggest company you've never heard of".
That's because it has more reason to signal to its creditors how harshly it's cracking down on costs, in order to make its financial targets.
The worst it can do to its reputation is to make the firm an unattractive place for people to go and work. And with a payroll of 16,000, recruitment and retention is an issue.
I've been given a bit more insight into its financial operations, following the Unite claims that things aren't as bad as they're being painted.
I got confirmation that the £579m four-year "loss" claim is not a loss in conventional terms. Most of it is capital expenditure, and £110m is negative earnings. Put together they're better described as cash flow loss, or put more simply, money going out the door.
Capital expenditure, or investment, is only sensibly committed if you've got profits flowing from it in future. That's where Ineos says its accounts look odd, because they don't anticipate making profits at Grangemouth in the next five years. Hence, the write-down in the petro-chemical plant's valuation, from nearly £400m to zero.
However, the Unite analysis, compiled by accountant and tax campaigner Richard Murphy, argued that a tax deferral of £117m in the most recent accounts implied half a billion in profits over several years.
The response: such is the structure of Ineos operations that those profits can be made in other Ineos plants around Britain. Even if the subsidiary is called Ineos Chemicals Grangemouth Ltd, its tax deferrals can be applied to any one of another 20-plus subsidiaries of Ineos.
Swiss tax
The other key message I took from my insight into Ineos financial thinking is that there's not much point in an outsider trying to fathom the accounts.
Across those 20 companies, several operate across several sites if not countries. And sites each have several companies operating within them. Ineos is not stock exchange listed, so it faces no requirement to be open with investors along with the public.
So Ineos Chemicals Grangemouth Ltd may look like the operation at the Forth Valley plant, but it's only part of it. There's another company running the refinery, which comes under the joint ownership of Ineos and Petro-China.
And there's at least one further company that trades in the feedstock (a refinery's input) and output. That's in Switzerland, and it's called Ineos Europe A.G. Or more accurately, that activity has been in Switzerland, but it's come back to the UK.
The story goes that Ineos had been based in England, before it hit a very rocky place with the credit crunch and downturn. It broke a bank covenant and was facing difficulty in paying a large VAT bill. It asked for a year's postponement in the bill, and when that wasn't forthcoming, the company headed for the Alps, and a rather more attractive tax regime.
Jim Ratcliffe, the chairman and majority shareholder, doesn't present his Swiss domicile as maximising profits but as maximising the money available to re-invest.
However, while looking for a grant from the Scottish government, and a large loan guarantee from the UK government, the company has seen that it might look better to do its trading within Britain. So another subsidiary, Ineos Commercial Services, has taken on Grangemouth's trading arm as of last July.
Does that mean we can see the trading accounts there, and get a better understanding of what's happening with Grangemouth finances? Well, no, because this subsidiary works across a range of chemical plants, and it's not clear from the accounts which trades apply to the Scottish complex.
So while there's lots of heat, when it comes to Ineos' finances, there are only a few shafts of light.