Isle of Arran Brewery targets tourists with new St Fillans site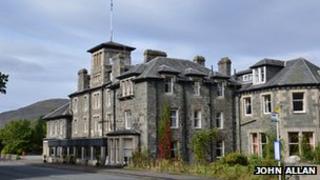 An island beer maker has announced plans to open a brewery, hotel and visitor centre on the mainland.
Isle of Arran Brewery said the centre in the village of St Fillans, Perthshire, will cost at least £250,000 to develop and lead to about 20 jobs.
The former Drummond Hotel will be converted into three restaurants, two bars and a shop, with hotel accommodation for up to 30 guests.
The brewery aims to attract 30,000 visitors to the site in the first year.
It wants the new facilities to complement its existing visitor centre in Brodick, Arran, which draws about 20,000 visitors annually.
The new site is due to open at the start of next summer.
'Stunning site'
Isle of Arran Brewery managing director Gerald Michaluk said: "The St Fillans site offers the brewery the chance to diversify and expand, producing a range of fresh and exciting brews in a new region of Scotland.
"The new premises will be situated on a stunning site overlooking Loch Earn and we hope to add to the magic of St Fillans with some island charm."
The St Fillans project is being part-financed by VisitScotland and Bank of Scotland to promote tourism before major events next year such as the Commonwealth Games and Ryder Cup.
Last year, the brewery bought Rosebank Distillery near Falkirk as part of expansion plans.
The deeds of the site say it cannot be used for distilling until 2017 when a "micro-distillery" could be opened.