Leading philanthropists collect Carnegie medals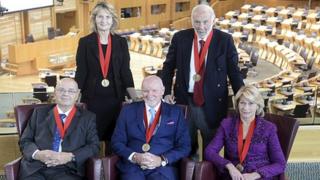 Leading philanthropists from across the world have been recognised for their work at a special ceremony in the Scottish Parliament.
Scottish entrepreneur Sir Tom Hunter was among six people to receive the Carnegie Medal of Philanthropy.
The medal is awarded biannually to those who use their private wealth and business acumen for public good.
They were granted the award for their support for education, science, entrepreneurship and the arts.
Sir Tom is only the second Scot to receive the award, after Kwik-Fit founder Sir Tom Farmer.
Other recipients of the medal this year included the founder of the second largest telecoms business in Russia, Dr Dmitry Zimin.
American hedge fund manager Dr James Harris Simons - along with his wife, economist Dr Marilyn Simons - also received medals, as did Dame Janet Wolfson de Botton on behalf of the Wolfson family, which set up the Wolfson Foundation.
The foundation was named after Glasgow-born business leader and philanthropist Sir Isaac Wolfson, who died in 1991.
Knighthood
The daughter of Her Highness Sheikha Moza bint Nasser, chairwoman of the Qatar Foundation for Education, Science and Community Development, accepted a medal on her mother's behalf.
The ceremony has only been held outside the United States once before - also at the Scottish Parliament in 2005.
In that same year, Sir Tom Hunter was knighted for services to entrepreneurship and philanthropy.
The son of an Ayrshire shop owner, he started his first business selling sports shoes from the back of a van with a £5,000 loan from his father.
He later built his Sports Division business into Europe's largest independent sports retailer and eventually sold it in 1998 for £290m.
Sir Tom and his wife Lady Marion went on to establish The Hunter Foundation (THF).
Previous medal recipients include the Rockefeller Family, the Gates Family, the Sainsbury Family, the Cadbury Family, George Soros and New York Mayor Michael Bloomberg.
Holyrood's Presiding Officer Tricia Marwick said: "Earlier this week, the parliament opened an exhibition exploring the legacy of Andrew Carnegie's philanthropy over the past 100 years.
"Today, we welcomed modern philanthropists to our chamber, people who have followed in Carnegie's footsteps and used their wealth to make a positive difference to society.
"I am sure Carnegie would have enjoyed today's ceremony and I hope the stories of the medallists will help inspire the next generation of philanthropists."
This year's ceremony also marked the centennial of the establishment of the Carnegie UK Trust.
The trust is named after Dunfermline-born industrialist Andrew Carnegie, whose family emigrated to the US from a life of poverty in Scotland in 1848.
He made his fortune in steel, becoming the world's richest man, and eventually gave away billions of pounds to fund a network of global foundations.