Q&A: Grangemouth complex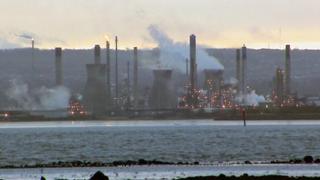 The bitter industrial dispute which has broken out at Grangemouth has placed a spotlight on the giant refinery and petrochemicals complex.
So what is the history behind the site, who runs it now and what operations are carried out there?
When did the site start up?
In 1924, BP opened a refinery on the Firth of Forth, in part because of its transport links and the availability of local labour skilled in shale oil refining.
From the 1950s, BP's operations there grew to meet growing demand for both petrochemicals and fuels.
The advent of a new source of crude oil feedstock in the shape of North Sea oil in the 1970s brought further business to the site.
The refinery's feedstock is now mainly supplied by the neighbouring BP-operated Kinneil oil and gas processing plant.
Some oil is imported to the site via pipeline from the deepwater Finnart Ocean Terminal, located about 60 miles west of Grangemouth.
Who owns the complex?
The petrochemicals part of the 1,700-acre site is run by Switzerland-based speciality chemicals and oil product manufacturer Ineos.
It owns more than 50 manufacturing facilities in 11 countries across the world.
In late 2005 Ineos bought BP's olefins and derivatives business, taking over the Grangemouth complex in the process.
The crude oil refinery - the only one in Scotland - is now owned by Petroineos, a joint venture which was formed between Ineos and PetroChina International (London) Company in 2011.
What is produced at Grangemouth?
The Grangemouth refinery processes around 210,000 barrels of crude oil per day, producing more than nine million litres of clean fuels per day.
The refinery, which has an annual capacity of 10 million tonnes, provides fuel to Scotland, Northern England and Northern Ireland.
The refinery and chemical plants form Ineos' largest production centre.
The petrochemicals facility at the site manufactures more than two million tonnes of chemical products per year.
These are later transformed into essential items such as bottles and pipes, cabling and insulation and food packaging.
What major equipment is there at the complex?
At the heart of the petrochemicals site are two ethylene crackers - G4 & KG - which produce the feed materials used by other chemicals plants.
The two units have an ethylene production capacity of one million tonnes per year between them.