Cairn Energy to begin Moroccan exploration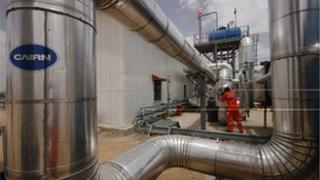 Oil firm Cairn Energy has announced it is to start a year-long "high impact" exploration programme, with drilling to begin soon in Morocco.
The company said the move would offer shareholders "exposure to material growth potential".
A number of possible follow-up exploration prospects have also been mapped.
Cairn said that a decision would be made soon on whether to drill the Pitu prospect off Greenland next year.
The Edinburgh-based group's drilling programme in Greenland has so far been unsuccessful and has been strongly criticised by environmentalists.
In a statement to the stock exchange, Cairn said that it remained in a "strong financial position ready to enter an intense operational period on the exploration front".
Chief executive Simon Thomson said: "Cairn continues to follow its policy of maintaining appropriate balance sheet strength as it progresses its exploration and development programmes."
The company also announced it would begin a share buy back programme of up to $300m (£186m).
Cairn got shareholder approval for the move earlier in the year.