Tough tactics at Grangemouth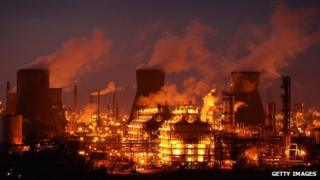 The industrial dispute at Grangemouth has the feel of the 1980s about it; robust confrontation, provocation and bitter mutual denunciations.
The energy complex's operator, Ineos, has made clear it can be ruthless, as it did earlier this month when it simply and permanently closed down a fairly new chemicals plant in Hull. It was keen that workers at Grangemouth got that message.
They surely got the message this week. Their strike threat is bringing about a total shutdown, rather than the "hot stand-by" the union says would be adequate: "It's shut down and it remains shut".
Put on the back foot, the hardball tactics of Ineos forced Unite the union into cancelling its strike plan, without any achievements and with no agreement on any of the issues in dispute.
They next face a demand for concessions on pay, conditions, pensions and possibly job losses.
They get this weekend to think about it, with a reply expected by Monday. And on Tuesday, the owners of Grangemouth decide if they've got the cost-cutting they demand.
By owners, that mainly means Jim Ratcliffe, who built up Ineos in only 15 years to become a global chemicals giant, fuelled by mind-boggling amounts of debt. His bondholders will take part in deliberations too.
Alarm bells
The stakes are high. There's a look of real alarm from government ministers in London and Edinburgh at the implications of the shut-down of the twin refinery and petro-chemical plant.
They are keen not to repeat the fuel disruption which led to panic buying and shortages in the past. So you're told not to worry about petrol and diesel supplies. There are stockpiles, and arrangements have been made to ship in fuel for transfer to road tankers.
But there's a longer-term and more fundamental risk to the Scottish economy from the Ineos shut-down.
And it's an imminent risk. While Ineos threatened the petro-chemical plant may shut before the end of 2017, no-one from Ineos was able to tell me on Wednesday that it will definitely open again after shareholders review their position next week.
The refinery is in a more secure position, even though we've been told the closure of the petro-chemical plant, which uses the gas by-products from the refining process, would make the finances of the refinery more difficult.
And the relative security of the refinery is not just because it appears to be in a relatively strong financial position: it's also that it's half-owned by Petro-China.
We've yet to hear what they think about this very un-Chinese dispute, but that humongous corporation (it's market value is nearly £150bn) will surely have an interest in the shareholder meeting next Tuesday.
The further risk to the economy is that a huge complex of offshore oil and gas production platforms pump their output down the pipeline to Grangemouth.
That pipe is, in turn, operated by steam and cooling gases from Grangemouth. Alex Salmond said on Wednesday that supply is secure, which should mean the pipeline stays open. But if this shut-down drags on, for how much longer before the constraints of crude storage require production to halt upstream?
And as it's focussing minds of ministers in two governments, here's another question to which I still await an answer: do they have any legal powers over the owners of such a vital strategic asset, if that owner is determined to close it down?
Distressed finances?
Much of this dispute pivots on the claim by Ineos that it's losing around £10m per month, and nearly £600m over the past four years.
It says it's in a "distressed" condition. Wrong, says Unite. The union asked a tax accountant to test out the assertion.
Richard Murphy, a campaigner on tax reform and an adviser to the Trades Union Congress, has concluded that Ineos is in rather rude health.
He suggests they've thrown a number of exceptional items at last year's accounts, which mean it doesn't look good. And he argues that a £117m allowance for deferred tax implies that there's around £500m of profit still to be made.
But he also admits that Ineos' accounts are hard to find, let alone to fathom. There are dozens of firms registered under the Ineos brand, and a spokesman confirms that there's no straight-forward way of assessing the Grangemouth plant, amid numerous intra-company sales and loans.
It doesn't help with clarity that the parent company moved out of Britain to Switzerland. That was its response when the UK Treasury turned down a request to defer a VAT bill when Ineos was in financial difficulties with the onset of the downturn.
Ineos stresses that its auditors, PwC, have confirmed the extent of its problems, though it's yet to open its books to confirm the small glimpse that press release shows us. It seems odd, at least, that capital expenditure is counted as part of the loss that Ineos says it's making.
In any case, the complexities of its finances matter rather less when the Ineos management has ensured that its workforce is focussed rather more intently on the survival of the plant, and of their jobs, past this weekend.