Scottish economy grows by 0.6%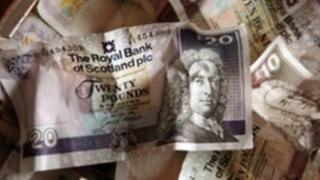 The Scottish economy grew by 0.6% between April and June this year, in line with the figure for the UK as a whole.
It was the fourth consecutive quarter to show growth north of the border.
On an annual basis, comparing the latest quarter to the same period last year, Scottish GDP grew by 1.8%.
Service industries - which account for nearly three-quarters of the economy - grew by 0.3% and production by 1%, while construction expanded by 2.1%.
Meanwhile, growth estimates for the first quarter of this year have been revised up, from 0.4% to 0.5%.
The latest figures were released in the Scottish government's GDP Statistical Bulletin.
Finance Secretary John Swinney said: "This continued growth in Scotland's economy is helping to create more jobs and opportunities for the people of Scotland.
"The services industry has grown for the fourth consecutive quarter and there has been substantial quarterly growth in the construction sector, which is being supported by Scottish government's investment in building projects across the country."