Scottish shops report 'subdued' trading in September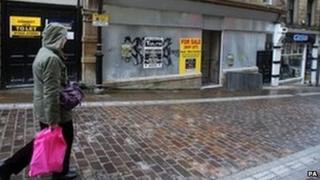 Figures released by the Scottish Retail Consortium (SRC) indicate "subdued" trading in Scotland's shops in September.
The SRC's retail sales monitor, produced in association with accountants KPMG, recorded total sales up by 1.8% compared with September 2012.
Food sales were up 2.3%, with non-food sales 1.4% higher.
The strongest-selling items were said to be tablets, games and gadgets.
Total sales growth was lower in Scotland than in the rest of the UK.
Like-for-like sales, a figure that strips out the effect of stores closing and new outlets opening, declined by 0.8% over the year.
SRC director Fiona Moriarty said: "After a strong summer, these more subdued figures serve as a reminder that, while recent months have seen some shafts of light, the path to economic recovery remains fragile.
"While Scottish consumer confidence remained fairly stable in September, many of us are still cautious, and may be holding back on spending until Christmas gets closer.
"This is certainly a slowdown after an impressive run during the summer months, and highlights that conditions remain challenging."
Ready meals
The trends within food sales were said to reflect shoppers enjoying "the tail end of the summer".
There was good demand for sandwiches and a "very positive reaction" to new lines in ready meals.
KPMG head of retail David McCorquodale said: "Food sales grew by just less than inflation but the setback was most felt in clothing and footwear where the warmer, drier weather resulted in consumers holding off replenishing their wardrobes.
"Consumers' habit of spending when they need to, rather than when they want to, means fashion retailers are now more exposed than normal to weather patterns.
"With Autumn-Winter collections out, I'm sure many will be hoping for a cold snap."