Ibrox falls foul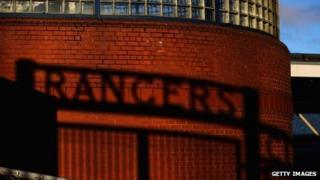 The men who run Ibrox have been given a reminder that they don't exist in a Rangers bubble.
Their financial advisers told them they had to clarify a couple of statements made in recent days in the bubble of the club's website. These weren't technical mistakes. They were basic and quite serious errors for a listed company.
Although Charles Green may have left the scene, his legacy lives on in the company's stock market listing. That requires an openness to which the Ibrox bosses seem to be unused.
This follows much excitement that the former director Dave King has agreed to become chairman, and to invest some of his pile of South African rand.
Club love
Statements were issued on the website explaining that chief executive Craig Mather has been in detailed talks with King.
King made clear that he's keen to return, for "love of the club". The protracted criminal proceedings against him brought by the South African tax authorities have been brought to a close in a rather expensive deal for Mr King, so he's now able to get more involved on his old home turf.
And he now says he wants to lead a round of new fund-raising.
In most companies, that might be no big deal. In Rangers' case, it's rather more significant.
The most recent accounts showed the management are burning through investors' cash, and if nothing else changes, they're going to run out some way through next season.
Fund-raising
Dave King wants to address that issue sooner rather than later, "in an orderly and cost effective" manner. The obvious flipside to his argument is the risk of something much more disorderly and costly.
But he's not chairman yet, either of Rangers International Football Club (RIFC, the listed company) or of Rangers Football Club, its subsidiary.
The other directors have had to clarify that they don't have anything against him becoming chairman, of the subsidiary. They're not acknowledging any such plans for the parent company.
But they don't agree with him on the fund-raising, and it looks as if they've been told not to talk about the board of the parent board.
They think new funds may be necessary ahead of Rangers return to the top flight of football, which they expect, or hope, will be at the end of next season.
That would help fund a lift in the quality of the playing squad. But it would also retrospectively address the problem they have of living beyond their means in the lower leagues.
Challengers
The latest statement corrects the website ones about Dave King's return: "There are regulatory matters which would need to be resolved prior to any such appointment.
"The directors also expect that in the medium term future, possibly coinciding with the return to top league football in Scotland, it may be in the best interests of the company to raise further capital.
"However, there is no requirement for short term funding, and as such neither the Company nor RIFC are actively seeking finance."
So that's clear then? No, it's another mess they've got into, unnecessarily. And it's ahead of a tricky Annual General Meeting which may see challengers trying to replace much of the board.
Whether the fund-raising is in the short-term or the medium distance, it's important, as a matter of principle, that all investors get such information from the board at the same time, in a statement to the London Stock Exchange, rather than in rambling statements on the website.
And it's important they're agreed by the board of the listed company, rather than investors being bounced into a major re-financing move by someone who's not on the board, yet.
'Lies and rumours'
Meanwhile, any institutional investor reading this statement, from Craig Mather, would wonder what they've got themselves into:
"I would urge every Rangers fan not to give credence to the many lies and rumours that are circulated by people with other agendas and who perhaps cannot admit we are getting it right.
"Too many are trying to distort the truth but it is this: Rangers is not a business in distress. Rangers is in a good position and it is healthy and robust.
"I cannot stress that forcibly enough but it is the reality of the situation."
That may make sense to those who live in the Ibrox bubble. Maybe it's just a football thing. To outsiders, it reads... how can I put this politely? A bit weirdly.
LATER:
In the Court of Session this afternoon, Lord Tyre ruled that the men who run Ibrox made another unforced error when they sought to block the votes on alternative directors.
The AGM is now postponed, and when it takes place, the votes on the challengers will have to be put to shareholders.
It's been pointed out that I didn't give a full picture of the settlement reached by Mr King with the South African tax authorities. Not all charges were dropped. According to reports from South Africa, the fraud ones were, but he pled guilty on lesser counts of breaching the country's tax law in his record-keeping and declarations. He's paid nearly £44m as part of the deal struck with the South African Revenue Service.