Scottish economy 'gaining momentum', says Bank of Scotland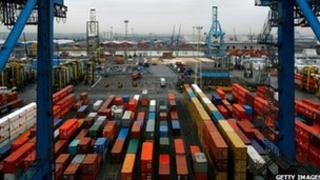 The economic recovery in Scotland is gaining momentum, a nationwide survey of purchasing managers has suggested.
The Bank of Scotland's latest PMI monitor matched August's survey-record rates of growth in both output and new business.
Employment also continued to rise, with a stronger performance reported among service industries than the manufacturing sector.
However, food, fuel and labour costs all rose during the month.
September's rise in new business - the 10th in successive months - was supported by further growth in new export orders for manufacturers.
A strong housing market was another factor driving the upturn, according to survey respondents.
The PMI monitor for September recorded sharp increases in business activity in the services sector, with the most marked pace of growth being seen in travel, tourism and leisure.
Jobs growth
The increase in activity built on solid jobs growth observed at services firms during August.
September's survey also pointed to a "sharp and accelerated increase" in new business at Scottish service providers.
There was a further slowdown in the rate of growth of manufacturing output north of the border, but it remained "at a level consistent with a solid pace of expansion overall".
Scottish manufacturers hired more staff during the month, continuing a trend observed in each month since February.
New order intakes rose for the ninth successive month in September, but the rate of growth eased sharply from the marked pace observed in July and August.
Export sales
Goods producers north of the border also registered improved export sales in September.
Meanwhile, higher food, fuel and labour costs helped to lift input price inflation to well above the UK average.
However, the survey found businesses largely refrained from passing on increased costs to clients.
Bank of Scotland chief economist Donald MacRae said: "The PMIs of the last six months suggest the Scottish economy not only grew in quarter two this year but saw that growth accelerate in quarter three.
"The recovery is gaining momentum."
Enterprise Minister Fergus Ewing welcomed the survey results.
He said: "This was the 12th consecutive month of private sector output expansion, with growth seen in both services and manufacturing.
"We are seeing ongoing signs of recovery and Scotland continues to outperform the UK on our employment rate, youth unemployment rate and annual output growth.
"We will continue to build on that momentum, supporting an investment-led recovery, taking action to boost jobs, create more economic opportunities and enhance business confidence."