Joint venture firms to build £6.7m Glenrothes distillery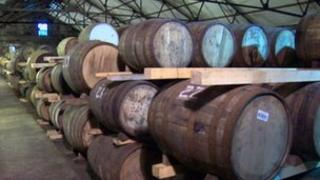 A new £6.7m distillery is to be established in Fife following a tie-up between Indian drinks group Kyndal and Perthshire distiller John Fergus & Co.
The two firms have entered into a joint venture for a micro distillery and bonded warehouse in Glenrothes which could be operational by 2015.
The facility will focus on exporting to markets in India, Africa and the Far East and create 15 new jobs.
It expects to generate exports worth £3.6m over the next three years.
The project is being supported by a £1.6m grant from the Scottish government's Food Processing Marketing and Co-operation Scheme (FPMC).
'Strong relationship'
Scottish Enterprise is also providing a £240,000 Regional Selective Assistance grant to support employment at the new distillery.
The news was announced by Minister for External Affairs Humza Yousaf during a visit to India to promote business links between the two countries.
Mr Yousaf said: "This project is proof yet again that there are strong and positive economic reasons for setting up business in Scotland.
"It is also another reason to celebrate our strong relationship with the Indian business community and an example of why we should seek out more collaborations."
The joint venture move comes as talks drag on between India and the European Union on a free trade deal which could lead to cuts in tariffs across a wide range of products and services, including Scotch whisky.
India currently levies a 150% duty on whisky imports.
'Huge opportunity'
Kyndal Group managing director Siddharth Banerji commented: "Kyndal Group is an emerging markets player.
"Developments towards rationalisation in import duty structures would open up a large market for Scotch whisky, and Kyndal in partnership with John Fergus & Co would like to maximize this huge opportunity.
"Together, we would launch high-quality premium Scotch and ad-mix brands in these markets."
Kyndal Group was set up in 2002 as a wholly-owned subsidiary of Whyte & Mackay.
Following the buyout of Whyte & Mackay by India 's UB Group, Mr Banerji led a management buyout of Kyndal India in 2006.
The company employs more than 100 people in India, with sales offices and warehouses across the country.