Grangemouth: Ineos says strike could 'shut much of Scotland'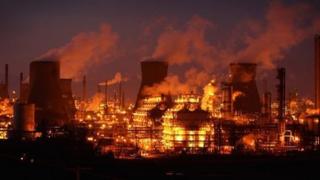 The operators of the Grangemouth refinery and petrochemical site have warned a threatened 48-hour strike "could effectively shut much of Scotland".
Members of the Unite union are planning to walk out on Sunday 20 October in a row involving a union convener.
Site operator Ineos said it would do all it could to "minimise the harm" of the strike.
It has drawn up a contingency plan to bring in more fuel by sea if necessary.
Both the Scottish and UK governments said they were drawing up contingency plans as they called for more talks between the parties to avert a strike.
The company labelled the Unite action as "completely irresponsible", while the union accused Ineos of "gunboat irresponsible diplomacy".
Forties pipeline
The strike could potentially disrupt the flow of Brent crude from the North Sea.
The North Sea's Forties pipeline system could be affected because the Kinneil oil processing terminal - where oil from the Forties field comes ashore - relies on Grangemouth for its steam and power.
The Forties oil field was closed by a strike involving tanker drivers in 2008.
The dispute centres on union convener Stephen Deans, who was involved in the row over the selection of a Labour candidate in Falkirk.
Mr Deans, who is chairman of both Labour's local constituency party and Unite in Scotland, was suspended by Ineos, then reinstated.
Ineos said an investigation by "a third party" into Mr Deans' conduct is due to be completed by 25 October.
'Bizarre and irresponsible'
Gordon Grant, a director at the site, told BBC Scotland the strike could stop the flow of oil from the Forties pipeline system, and affect the supplies of fuel into Scotland.
He said: "It just seems bizarre and completely irresponsible that, given we have outlined the timetable that this investigation will complete by 25 October, the trade union should call a strike before that investigation is complete."
"We will do everything possible to try to avoid a strike.
"We will be in talks to do that, but this is Unite's strike and only Unite can call off that strike."
He added: "I would urge them to call off this strike now, let the due process of the investigation be carried out."
Unite regional secretary Pat Rafferty said "if anyone is irresponsible here, it is Ineos".
'Gunboat diplomacy'
Mr Rafferty claimed the company had rejected two previous Unite requests to go to the arbitration service, Acas.
He also said Ineos had turned down an offer by Unite to discuss providing full safety cover over the strike period that would keep the plant in a "hot condition", which would mean the Forties field pipeline would not be affected.
Ineos later denied that Unite had made such an offer but added it was "delighted that this offer is now being made, albeit through the media".
Mr Rafferty said: "Every time that we try to move things forward and try to get to a peaceful solution in this, the company take a step back and reject every offer that we are making here.
"This is gunboat irresponsible diplomacy that is taking place by the employer and they need to put an end to this and get back to dignified and reasonable negotiations where we can take things forward here."
Earlier, Ineos Petrochemicals UK chairman Calum MacLean said Unite "could effectively shut much of Scotland".
He added: "We will do all we can to minimise the harm this Unite strike does to the people of Scotland and the north of England.
"We have high fuel stocks in the refinery and a contingency plan to use the site as an import terminal to bring additional fuel in by sea if necessary.
Contingency plans
UK Energy Secretary Edward Davey said the UK government had been working with the fuel industry and Scottish ministers to "put robust alternative supply routes in place in the case of a strike, which means that motorists can carry on as normal and other impacts will be kept to a minimum".
He urged Unite to call off the strike, and both parties to negotiate a "fair, sustainable resolution" on the long-term future of the plant.
The Scottish government said the announcement of the strike "reinforces our fundamental view that this dispute can only be properly and fully resolved by negotiation between the company and the trade unions".
It added: "We will now redouble our efforts to encourage negotiation to avert a strike, whilst taking forward contingency planning activity."
Ineos recently launched a survival plan for Grangemouth, warning that the site will close by 2017 without investment and reduced costs. It said the plant was losing £10m a month.
The Grangemouth refinery processes 210,000 barrels of oil per day and provides most of Scotland's fuel. It is owned jointly by Ineos and PetroChina.