Fergus Ewing hails tourism 'resurgence'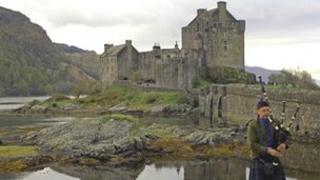 Tourism in Scotland has enjoyed a "resurgence" following a challenging year for the sector, Tourism Minister Fergus Ewing has said.
Official figures showed visitor numbers in the 12 months to June were 1% down on the previous year, with spend falling 6%.
But the first six months of this year showed a slight rise in both visitor numbers and spending.
Mr Ewing called the first-half figures "encouraging".
The Office for National Statistics recorded a total of 6.5 million domestic and international visitors between January and June - 1.6% more than the same period last year.
Tourism spend also rose by 1.7% in the first half, bringing overall expenditure in Scotland between January and June to £1.8bn.
Domestic holidays continued to prove popular, with the number of staycations increasing by 2%.
During the second quarter of the year, international visitor numbers were also 2% higher than the same period last year.
'Challenging time'
Tourism minister Fergus Ewing said: "The growth in tourism during the first half of 2013 shows a resurgence in both domestic and international markets.
"Growth in international tourists has mainly been due to a rise in visitors from emerging markets, with an increase in visitor numbers from countries such as Australia, New Zealand and Brazil.
"New air routes such as the re-introduction of direct air links from Canada, and Easyjet, starting new routes from Europe to Scotland, will open up our country to more visitors.
"Virgin's new routes into Scotland from Heathrow have connected Scotland to more than 30 global destinations and already we are seeing tour operators launching new tourist packages to Scotland as a result."
He added: "Despite this resurgence, last year was a challenging time for the tourism economy, and this is still impacting on visitor figures and spend."
Last month, Historic Scotland reported a "record-breaking" summer for Scotland's visitor attractions.
It said there were nearly 1.7 million visitors, an increase of 14.8% on the same period last year.
Records were broken at "flagship" site Edinburgh Castle, with numbers up 26% on 2012 for the period June to August.
August saw 229,940 visitors at the castle, more than any month ever.