Census shows farmers hit hard by harsh weather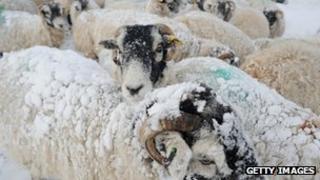 Harsh weather last winter hit Scotland's farmers hard, official statistics have revealed.
Fewer winter crops, such as wheat, potatoes and oilseed rape, were planted and there was also a fall in livestock.
About 170,000 fewer lambs were counted in the annual census, while the number of sheep, pigs and cattle also fell.
The National Farmers Union said wet weather last year, cold temperatures this spring and the closure of meat processing plants were to blame.
The statistics were released as the Scottish government announced it had paid out almost £3.5m in compensation to farmers hit by losses caused by the severe weather.
Rural Affairs Secretary Richard Lochhead said a total of 540 Weather Aid payments, worth more than £2.7m, had now been processed.
A further 300 claims are still outstanding.
More than 4,000 farmers have already received help from the Scottish government's £750,000 Fallen Stock Fund.
Livestock decline
The June 2013 Scottish Agricultural Census found livestock numbers continued to decline, with the total number of cattle down by 2% to 1.8 million.
There was also a further fall in the number of sheep, which declined by 2% to just over 6.5 million.
The drop was mainly due to a 5% fall in the number in lambs, much of which was related to the poor weather.
Pig numbers saw a large fall - down 12% to 319,000 - which was put down in part to a reduction in meat processing facilities in Scotland.
Commenting on the census, Mr Lochhead said: "These latest statistics confirm what we already know - that this year's extreme weather has taken its toll on Scottish farmers.
"That is why the Scottish government is providing £6.5m compensation through our Weather Aid scheme and Fallen Stock Fund which, unlike in England and Wales, is extra funding in addition to Single Farm Payments.
"About 300 Weather Aid claims are still outstanding and my officials are actively working with these farmers to verify their applications so that payments comply with EU state aid rules.
"This is very complex, which is why some claims are taking longer to process, but all payments will be completed as soon as possible."
He added: "Although the extreme weather was undoubtedly a massive factor in the drop in sheep and cattle numbers this year, there is evidence of a longer-term decline.
"This highlights the scale of the challenge facing Scotland's red meat industry - particularly for Scotch Beef which has relatively high production costs."
'Little surprise'
NFU Scotland said the census figures had come as little surprise to those close to the agricultural sector, given the "exceptional and extreme" weather endured by Scottish farmers in the winter and spring.
Spokesman Bob Carruth commented: "Those weather events significantly changed the shape of the Scottish arable sector and ensured that our cattle and sheep numbers remained under pressure.
"But what a difference a year makes. The 2013 harvest, with potatoes still to be completed, will probably go down as one of the easiest to conduct on record."
He added: "Ideal weather conditions across much of Scotland for harvesting and sowing crops means that 2014 is already, on paper, shaping up to be a more normal year for our arable sector.
"Record prices for cattle and solid trade for sheep also hint at improved fortunes for those sectors.
"That will be needed if we are to stem the decline that we have seen in our cattle herds and sheep flocks in recent years."