Wood Group forms joint venture with Siemens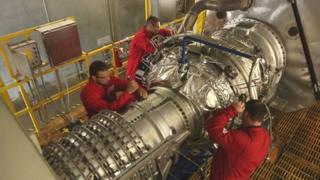 Wood Group is forming a joint venture (JV) with German industrial giant Siemens to create a global rotating equipment service business.
The Aberdeen-based oil services firm said some of its maintenance and power operations would be rolled into the venture with Siemens' TurboCare unit.
TurboCare designs gas and steam turbines and generators and offers repairs services.
The venture will have about 4,500 employees around the world.
Wood Group estimated annual revenue of about $1bn (£625m) for the new business.
The group said the move would boost the future prospects of its gas turbine activities by bringing together two organisations with complementary strengths and customers.
Wood Group will own 51% of the venture.
'Greater flexibility'
The deal is subject to regulatory approval and is expected to complete in the first quarter of 2014.
Wood Group GTS chief executive Mark Dobler will transfer from the group's rotating equipment division to lead the new business.
Mr Dobler said: "The JV will bring together Wood Group's capabilities in the areas of asset operations, maintenance, risk management and life-cycle optimisation with the aftermarket design, repair and manufacturing capabilities of TurboCare to deliver greater flexibility, greater market reach and an expanded footprint to service customers.
"The JV will be a significant integrated rotating equipment service provider to the global power generation, oil and gas and industrial sectors."