Glasgow Prestwick Airport to be taken into public ownership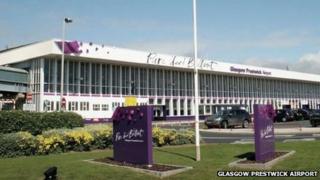 The Scottish government has confirmed that it plans to take Glasgow Prestwick Airport into public ownership.
The step was confirmed in a statement by Deputy First Minister Nicola Sturgeon in the Scottish Parliament.
The airport, which was put up for sale last March by New Zealand-based owners Infratil, has been running annual losses of £2m.
Ryanair, which operates 27 routes from Prestwick, has welcomed the government takeover.
Ministers will now enter detailed negotiations with Infratil on the terms of sale.
Ms Sturgeon told MSPs some private investors had expressed an interest in the airport but it had become clear none was able to commit to buying Prestwick on a timescale that was acceptable to Infratil.
She said the Infratil board had been considering its options, one of which was to seek commercial discussions with a view to public sector ownership and the other being to close the airport.
Airport jobs
Ms Sturgeon said ministers had "examined carefully" the implications and consequences of both options before making their decision.
She argued that the closure of Prestwick would be a "serious and unwelcome development" for the Ayrshire and the Scottish economies, with about 1,400 jobs linked directly or indirectly with the airport.
She said: "We believe Prestwick Airport can have a positive future.
"It will require investment and it will take time. However, we believe it can be returned to profitability.
"We also estimate that the cost of closure to the public purse would be very significant and this is an important factor in our decision."
'Familiar concept'
Ms Sturgeon described public ownership of airports as "a familiar concept", pointing out that the Scottish government already had responsibility for 11 airports through Highlands and Islands Airports Limited.
She also argued that some other major UK airports - including Manchester, Stansted, Newcastle and Cardiff - were owned wholly or substantially by the public sector.
She added: "I can therefore advise parliament that the Scottish government has advised the current owners of our intention to commence a process towards acquisition of Prestwick Airport.
"Following the agreement of its board earlier today in Shanghai, we are entering into negotiations with Infratil for the potential acquisition of Prestwick Aviation Holdings Limited and its subsidiaries.
"Conclusion of this process will, of course, be subject to the Scottish government carrying out confirmatory due diligence.
"The terms of sale will be on a commercial basis and in accordance with the market economy investment principle."
'Enormous effort'
She added that the government intended to complete due diligence and detailed negotiations with Infratil on the terms of sale over a six-week period.
Infratil has agreed to ensure the airport is kept fully open and operational while the process is ongoing.
The only scheduled passenger airline at Prestwick, Ryanair, said: "We welcome today's announcement, which gives certainty to the future development of Prestwick Airport.
"Ryanair remains committed to Prestwick, where we have a large route network and base maintenance presence."
The Scottish Conservatives urged the Scottish government to return the airport to private hands at the earliest possible opportunity.
Transport spokesman Alex Johnstone MSP said: "It is going to take an enormous effort to get the airport back in to profit and make it sustainable for the future.
"That will involve a significant level of restructuring and the Scottish government has to have the courage to do what's necessary, rather than simply pouring money into something without accruing any benefit.
"It's also important that, even if this airport is publicly owned, it is managed and run by people whose job it is to manage and run airports."
'Major money'
Welcoming the announcement, Labour MP for Central Ayrshire Brian Donohoe said: "Major money is required to develop the airport which is why I have always said it should be given for a penny to a developer willing to spend the cash.
"I hope the Scottish government did not pay much more than that."
Speaking to BBC Scotland, he said the airport had been "moribund" for about 10 years.
"The actual income against the expenditure hasn't matched," he said.
Mr Donohoe added that, as a result, the airport's owner had not made "the necessary investment".